Double Stitch Twins LOVE yarn
Double Stitch is the brainchild of the multi-talented twin designers Erika and Monika Simmons that has evolved from a collection of show stopping handmade crochet apparel, to The Double Stitch Twins, a brand that influences the rapid pulse of fashion for past, present and future crochet artists and admirers. They've been featured on numerous television shows and in magazines. Their designs have been featured at Macy's in Chicago and they have authored 3 crochet pattern books entitled, Double Stitch: Designs for the Crochet Fashionista with Interweave Press, Fashion Forward and The Crochet Fashionista Workshop with Red Heart Yarn.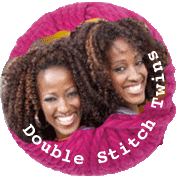 The Double Stitch Twins were recently pleased to win the Crochet Liberation Front's coveted, 2011 Flamie Award for Best Crochet Designers Accessories.
"Why we love Yarn! Yarn is our paint, so it represents a freedom and infinite fashionable possibilities! Various shapes, colors and silhouettes are what we envision and it's a joy for us to discover with yarn everyday."
The information on this instruction sheet is presented in good faith and without warranty. Results are not guaranteed.
I
love

YARN DAY begins in: