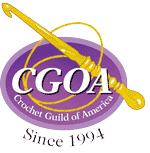 Celebrate the National Crochet Month of March by joining the Crochet Guild of America and link to hundreds of like-minded crocheters around the country — and the world! Membership in CGOA includes an annual subscription to Crochet! magazine, discounts on yarn purchases, the Chain Link newsletter,

an exclusive online forum, discounts on classes, a daily connection with other crocheters and much more. Join the fun at CGOA Conferences in Indianapolis, IN, July 19-21 and Concord (Charlotte), NC, October 4-6!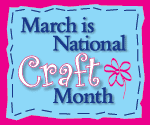 Whatever your passion — knitting, crocheting, beading, etc. — March is the month to share your love with others. Get together with friends to craft and teach your skill to others. There are lots of exciting activities scheduled at stores nationwide. It's a great time to visit your local yarn, craft and fabric stores to check out special March events.