Certified Instructors Program-Become Teacher Certified in Crocheting and Knitting
It's a great time to become a Teacher!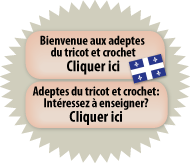 With the explosion of interest in knitting and crochet, people are clamoring for lessons and stores are interested in offering classes. There's never been a better time to share your knitting and crocheting talents and become a certified teacher.
Since 1982, the Craft Yarn Council (CYC) has sponsored its Certified Instructors Program (CIP), and our goal has remained constant: to provide current knitters and crocheters with the skills and confidence to teach others.
Basic Requirements & Info About this Special Class
To apply, you must have advanced beginner's skills in crocheting or knitting and the enthusiasm to teach. THIS IS NOT A BEGINNER'S COURSE.
The CIP is offered as an on-site course and via correspondence. Upcoming on-site classes are listed at the top right-hand side of this page. Details about both on-site and correspondence programs are listed below. Regardless of which program you chose, you will:
Become part of the Craft Yarn Council's teachers' data base network
Gain increased confidence in public speaking and communication skills
Meet new friends and share new experiences
Be eligible to participate in the Craft Yarn Council's Discover Class Program at Michaels Stores
CYC Education Program Offered at FIT
The Craft Yarn Council (CYC), the yarn industry's trade association, offers its Certified Instructors Program (CIP) in association with the Center for Professional Studies at the Fashion Institute of Technology's (FIT). As part of this training course of study, students who successfully complete the program now earn continuing education units (CEUs).
"We are pleased to be associated with FIT," says Mary Colucci, CYC's Co-Executive Director. "The college's reputation for training professionals in the marketplace and providing ongoing training to advance careers and businesses is respected nationwide. FIT is also affiliated with the State University of New York. The Center for Professional Studies is a unit of FIT's School of Continuing and Professional Studies.
"Our goal with the CIP program," continues Colucci, "has been to train knitting and crochet teachers and to raise these studies to a more professional level. Now students who are able to take the courses through FIT will obtain nationally recognized validation of their training at an internationally respected institution. We are pleased that Arnetta Kenney, an adjunct professor in FIT's Textile Surface Design Department and a CIP teacher who helped to forge this new affiliation, will teach the first courses."
Joan Volpe, Managing Coordinator for The Center for Professional Studies, commented, "We have seen a resurgence in quality hand crafted item demand, coupled with a renewed interest in obtaining high level artisan skills. The Craft Yarn Council's program insures quality instructor training and through our partnership, people who wish to learn knitting and crochet will have the benefit of knowing that their instructor has nationally recognized credentials."
Since the Council created its CIP program in 1981, it has trained thousands of teachers around the country. The program includes technique and teacher training in both knitting and crochet. Both courses require 17 hours of class work, the completion of projects and student teaching. More details about the program can be obtained from the Council's web sites: www.teachknitting.com or by contacting Council offices.
Ten Tips from the Pros
KEEP IT FUN. Your young students must enjoy what they are doing. Let them see that you are having fun.
Have a model to display of a project so your students can see what they will be making.
Select simple projects that will interest your young students;
projects that can be completed quickly,
use brightly colored yarns, and
have extra supplies on hand.
Keep the lessons short to accommodate the short attention span of children.
Don't expect perfection. They are trying. That is what is important. Praise them! Find something to compliment;
"I like that yarn color!"
"You have been a good listener today!"
"Your stitches are looking so good!"
"I like the way you are holding your crochet hook!"
REMEMBER KEEP IT FUN!!!!
Showing is better than telling. Demonstrate the skill that you want them to do.
Put something in their hands as soon as possible. Many teachers have found it easier to begin by giving students a hook or needles with a few rows of crochet or knitting completed. Students learn the basics more easily and then go back and learn foundation chain or cast on, which can be tricky for beginners because of their tension.
Children need to have a sense of accomplishment. Provide them with frequent progress reports.
When a child is having difficulty with a skill, show them an alternative, if possible.
When teaching teenagers:
do not "dumb down" your instructions, but recognize their interests are different,
treat them as adults not like "large children,"
choose projects that match their interests,
consider current fashion trends.
If you enjoy passing along your gift of knowledge to a new generation, we hope that you also will be interested in learning more about earning teacher certification in crochet and knitting. More information follows.
International Requests
It is exciting to reach a worldwide audience of knitters and crocheters, but unfortunately, at this time, we are only able to process Certified Instructor Program requests from the U.S. and Canada.
Teach Knitting & Crochet
Craft Yarn Council's Education Program
With the explosion of interest in knitting and crochet, people are clamoring for lessons. Increasingly, stores, schools and libraries are interested in offering classes. There's never been a better time to share your crochet and knitting talents and become a certified teacher.
The Craft Yarn Council's Certified Instructors Program strengthens your crochet and knitting techniques, tutors you in the mechanics of teaching, and provides helpful information on how to set up and promote classes. And you learn from leading knitting and crochet teachers.
Basic Requirements
To apply, you must have advanced beginner's skills in crocheting and/or knitting and the enthusiasm to teach.
Tri-Level Program
There are three levels to the Council's Certified Instructors Program and two program options, but you don't have to complete all three levels before you begin teaching. The technique and mechanics of teaching are covered in the first two levels. Student teaching is required at every level and to advance to the third and final level, you must have significant teaching experiences. Here's how it works: Complete Level I-Instructor and a minimum of 15 hours of student teaching and you receive your basic Certificate of Participation, which qualifies you to teach beginner classes. At the completion of Level II-Teacher and an additional 15 hours of student teaching, you receive your Teacher Certificate. For those who have completed all of Level I & II, there is the challenge of Level III that involves the creation of an original knitted or crocheted garment, a graded teaching demonstration and written exam. Finally, students in this advanced level course must finish an additional 20 hours of student teaching to complete Level III-Professional
Students have six months to complete each level of the Certified Instructors Program or additional fees will apply..
Recognition Pin & Certificates
At the completion of each Level, you'll receive a handsome pin, which you can wear with pride. At the successful completion of each level, you'll also receive a certificate and your name will be added to the Council's growing education database. The Council staff refers to this database when we receive requests for teachers from retailers, schools or groups nationwide.
Program Options
On-Site Workshops — The Council sponsors its Certified Instructors Program workshops at the Fashion Institute of Technology (FIT) as well as at major guild shows—The Knitting Guild Association and Crochet Guild of America—and occasionally, the Council has the opportunity to offer workshops in selected cities. The on-site workshops, which are usually held over two or three days, combine Level I and II coursework. (Student teaching is done outside of the workshop.)
Correspondence Program
For those who are unable to attend an on-site workshop, the Council offers its Certified Correspondence Instructors Program. Students complete the same work as covered in an on-site workshop and submit work samples by mail to a Council master teacher. After reviewing student's submissions, our teachers interview students via telephone to determine their thorough understanding of technique and teaching skills. Correspondence students complete the same amount of student teaching as participants in on-site workshops.
Ongoing Communications
Graduates automatically become members of the CYCA Alumni Club, gaining access to our online newsletter, which includes helpful information for teaching classes, and receiving mailings about teaching opportunities.
Program Costs
Level I of either the Knit or Crochet Certification Program is $75 USD.
Level II of either the Knit or Crochet Certification Program is $75 USD.
Members of TKGA or CGOA pay $65 per Certification program.
NOTE: On-site classes combine Levels I & II. The on-site fee is $150 USD.
Members of TKGA or CGOA pay $130 USD for an on-site class.
CANADIAN RESIDENTS ONLY:
All checks or money orders MUST be in U.S. Dollars.
Join the Growing Network
The Council's Education Program is rigorous and encourages students to continually improve. As you advance, you'll enjoy the camaraderie of a growing network of teachers who take pride in their knitting and crochet skills and are recognized professionals.
Registration
To register for one of the on-site workshops listed above or for the correspondence program, complete the Application for the Craft Yarn Council's Certified Instructors Programs.
For more information, E-mail Craft Yarn Council offices.