The Craft Yarn Council (CYC) together with Scholastic enlisted thousands of teens nationwide during this past school year to participate in the Warm Up America Learn to Knit program creating blankets for homeless shelters, teen pregnancy homes, battered woman's shelters, nursing homes, hospices and a variety of social service agencies. An estimated 10,000 knitted squares have been created by teens through this year's inaugural program.
Speaking for the Warm Up America Foundation I'd like to thank all the teachers and students who participated. As a result of student involvement, we are receiving thousands of knitted sections, which will help us meet the growing demand for afghans.
Congratulations to Erin Durgin, Grand Prize winner in our Hold That Stitch Contest, and Alison Irons, winner of the First Prize. You'll want to read their winning entries.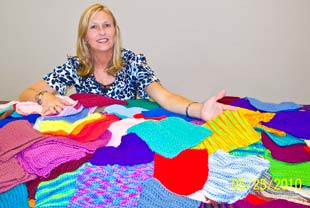 While our Learn to Knit program is officially over, the Lesson Plans and Poster are still available for download.
Download the Lesson Plans
Download the Poster
They are excellent teacher resources. We also invite you to visit our teachers' web site, which is rich in content to assist you in organizing knitting or crocheting classes. There are interviews with teachers who have run successful programs at all grade levels and in after-school programs, along with links to how tos and FAQs, additional project ideas and even helpful Spanish translations for common knitting terms and links to Spanish- and French-language patterns.
Based on the enthusiastic teacher response to this year's program, we hope to work with Scholastic again in the near future. We also hope that we have a new generation to aid us in Warming Up America!
Thanks to you all and check out just a few of the photos we received from students and teachers.
Mary Colucci, Executive Director
Warm Up America Foundation
Learn more about teaching at www.teachknitandcrochet.org