Does the busyness of life have you feeling stressed out? Do you find yourself wishing for a way to unwind and just relax? Well look no further because the Craft Yarn Council has the perfect solution!
April is Stress Awareness Month and to celebrate and educate people about the health benefits of yarn crafts, the CYC is hosting our annual #StitchAwayStress campaign. Make life's lemons into lemonade by knitting or crocheting a lemon stress ball and squeezing it when life gets tough.
This year there's even a new spin on the lemon stress ball - a lemon pillow! Knit or crochet your way to the cutest pillow around and keep it for yourself or give it to a friend in need of some relaxation. Designed by Twinkie Chan, the pillow is the perfect companion to the lemon stress ball and even doubles as an exercise ball or aromatherapy partner.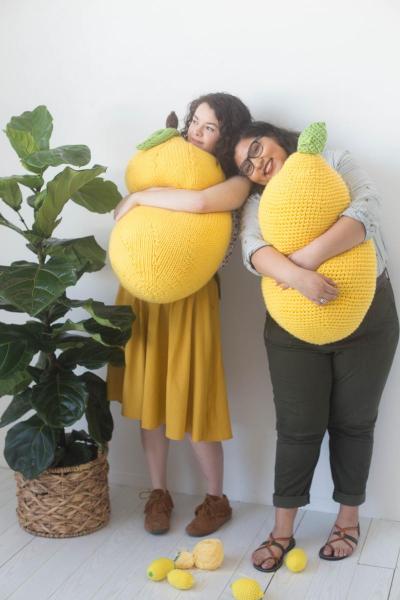 We started promoting a survey on social media at the beginning of the month to gauge the habits of knitters and crocheters and to find out how yarn crafts contribute to their wellness. The results of the survey will be shared on social media throughout this month.
We will also host a social media contest for our Instagram followers. The contest will take place the second, third and fourth weeks of April and to enter, participants will comment on the designated posts and tag three friends. One random winner will be chosen each week to win a prize pack of new yarns.
Follow along on our Facebook, Instagram, YouTube and stitchawaystress.com website for weekly tips on how to use your lemon or for knit and crochet skills to bust stress and promote relaxation. Hear from some of your favorite yarn crafters and from some new faces too about all the ways that knit and crochet help them relieve stress, improve their mood, reduce anxiety and more!