Intro
CYC presented each of the Sweet Tooth Hotel Intangible artists with the opportunity to write their own guest post for the CYC blog. We told them they could write a post over any topic related to their install or CYC AIR experience. For Joanna Lin, instead of writing a blog post about something related to her installation, we instead asked her some questions to dive deeper into the concept for her space, the techniques and yarn she used, and what her future plans are! Read on to learn more about Joanna's installation "You (are) Tube"!
Tell us about the concept for your space and how you came up with it.
I was graciously given a blank wall and one week's working time before the delayed opening date of Intangible. Jencey asked for any knits I already had, so going through what I had on hand, I had a bunch of "sausage sweaters" (my flagship product), which are essentially tubes. I thought it would be fun to build on top of my small tubes with more tubes! Adding limits to the possibilities was very important given the time constraints! With "TUBES" in mind, I then made some pillows and some scarfs. A few months later, I found a way to make "hairy tubes" and they also fit in perfectly with my simple theme.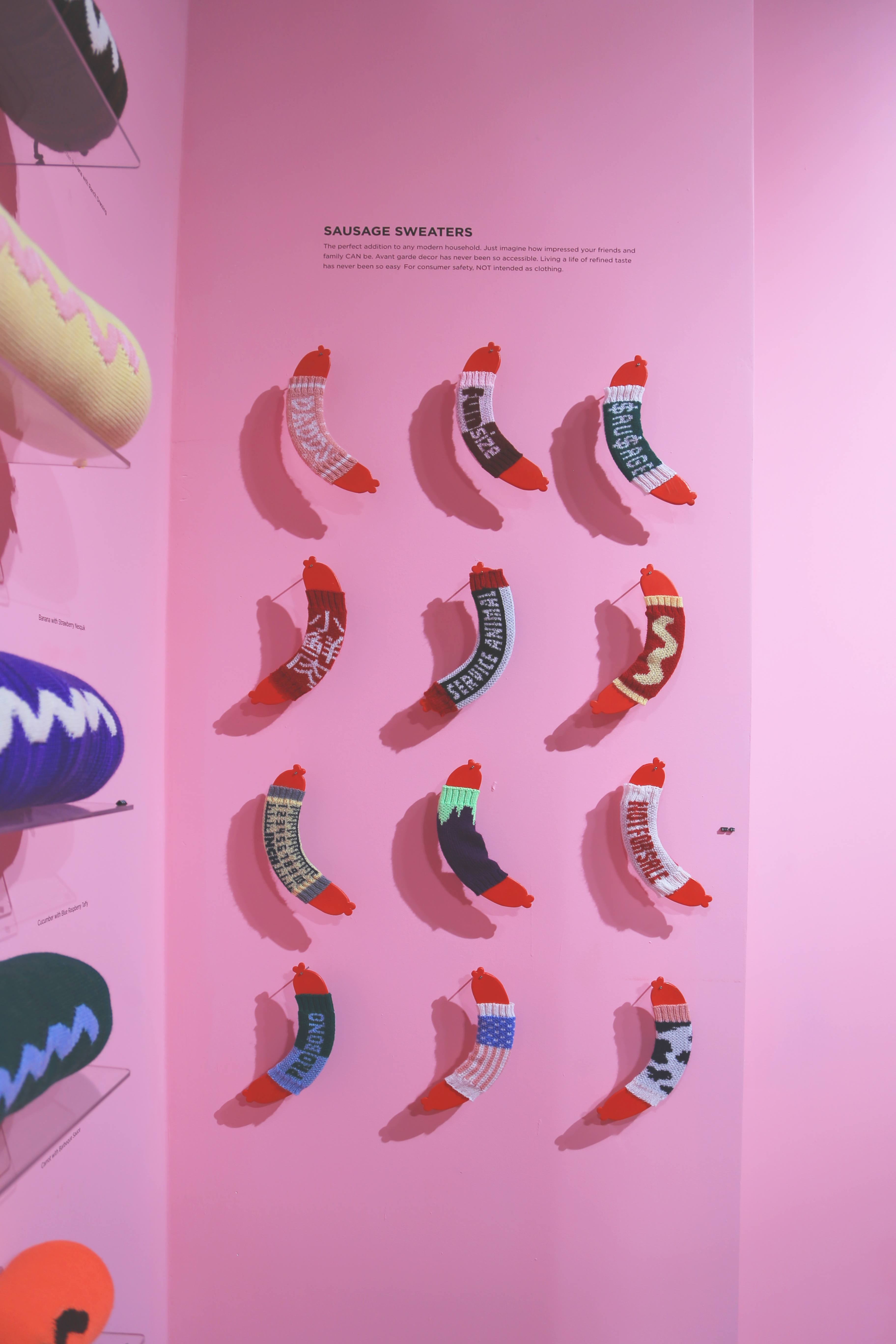 What technique(s) did you use in your install? Briefly describe the technique(s).
I did double bed jacquard machine knitting for my sausage sweaters. This method of knitting allows me to make designs without worrying about the integrity of the fabric because the backside of a double bed jacquard fabric is very stable.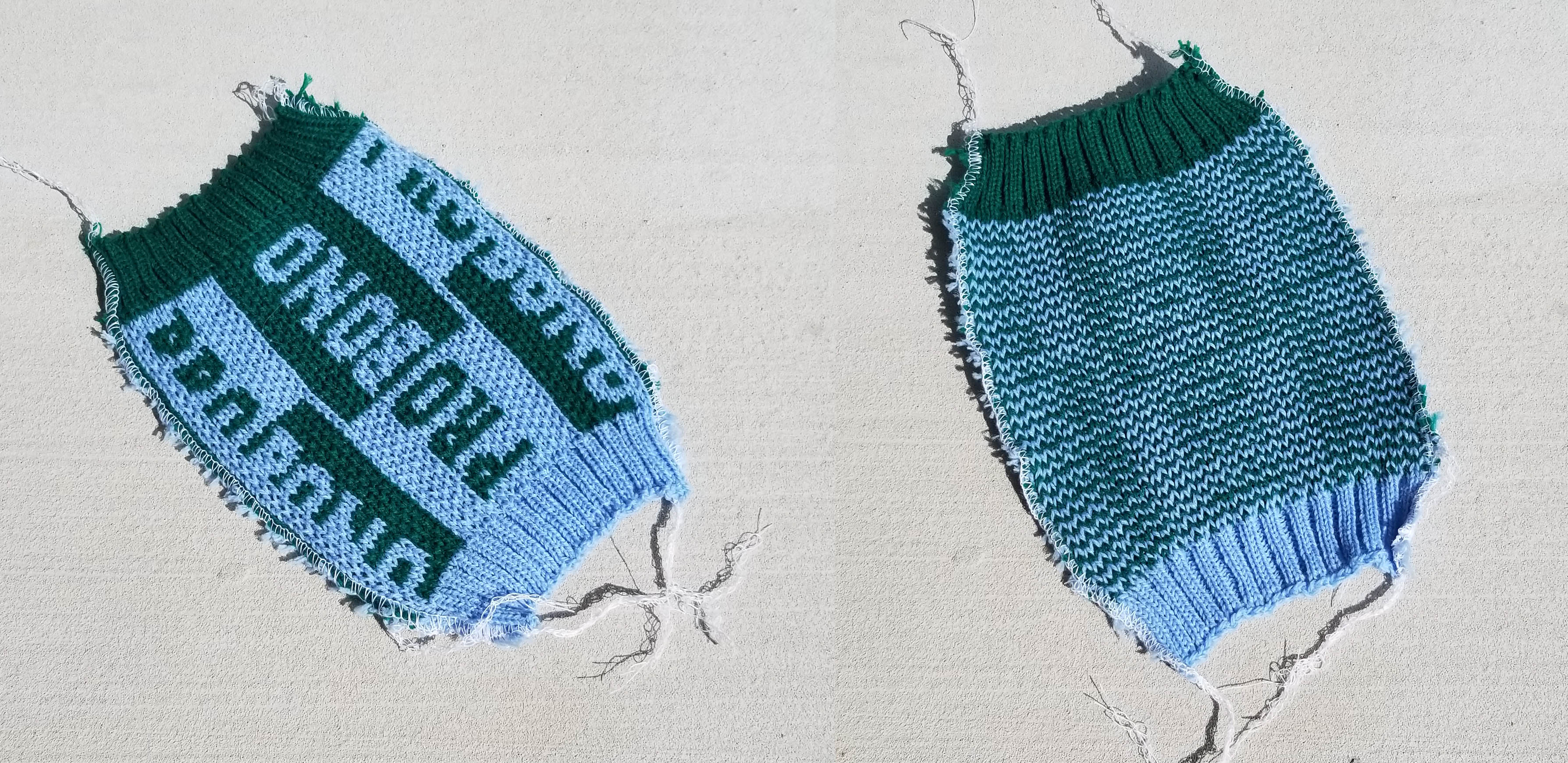 What technique(s) did you use in your install? (continued)
I used single motif fair isle knitting for my flavored tubes. This method of knitting is faster, but has floats on the backside.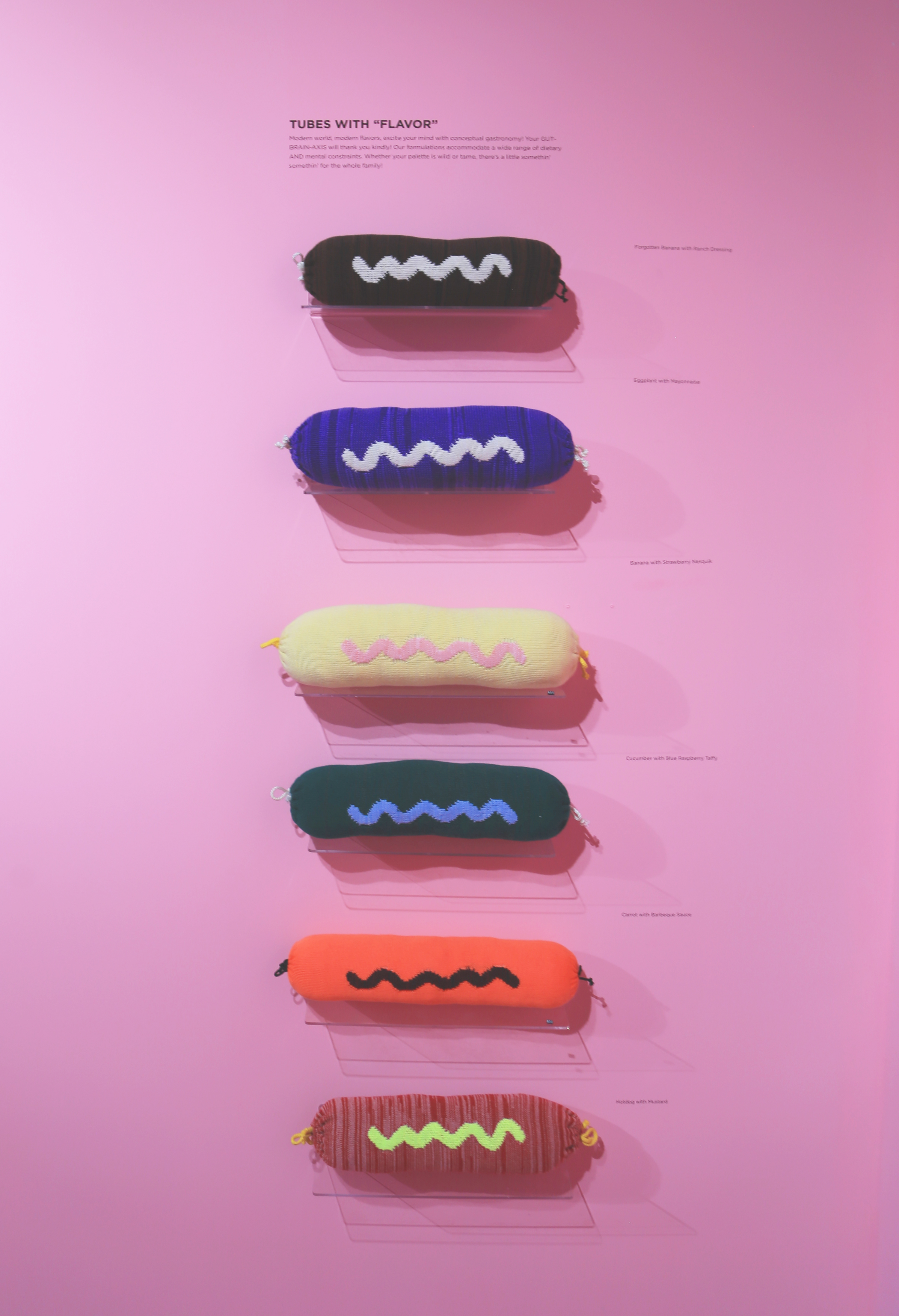 What technique(s) did you use in your install? (continued)
Then I did tubular knitting for the flaccid tubes and hairy tubes.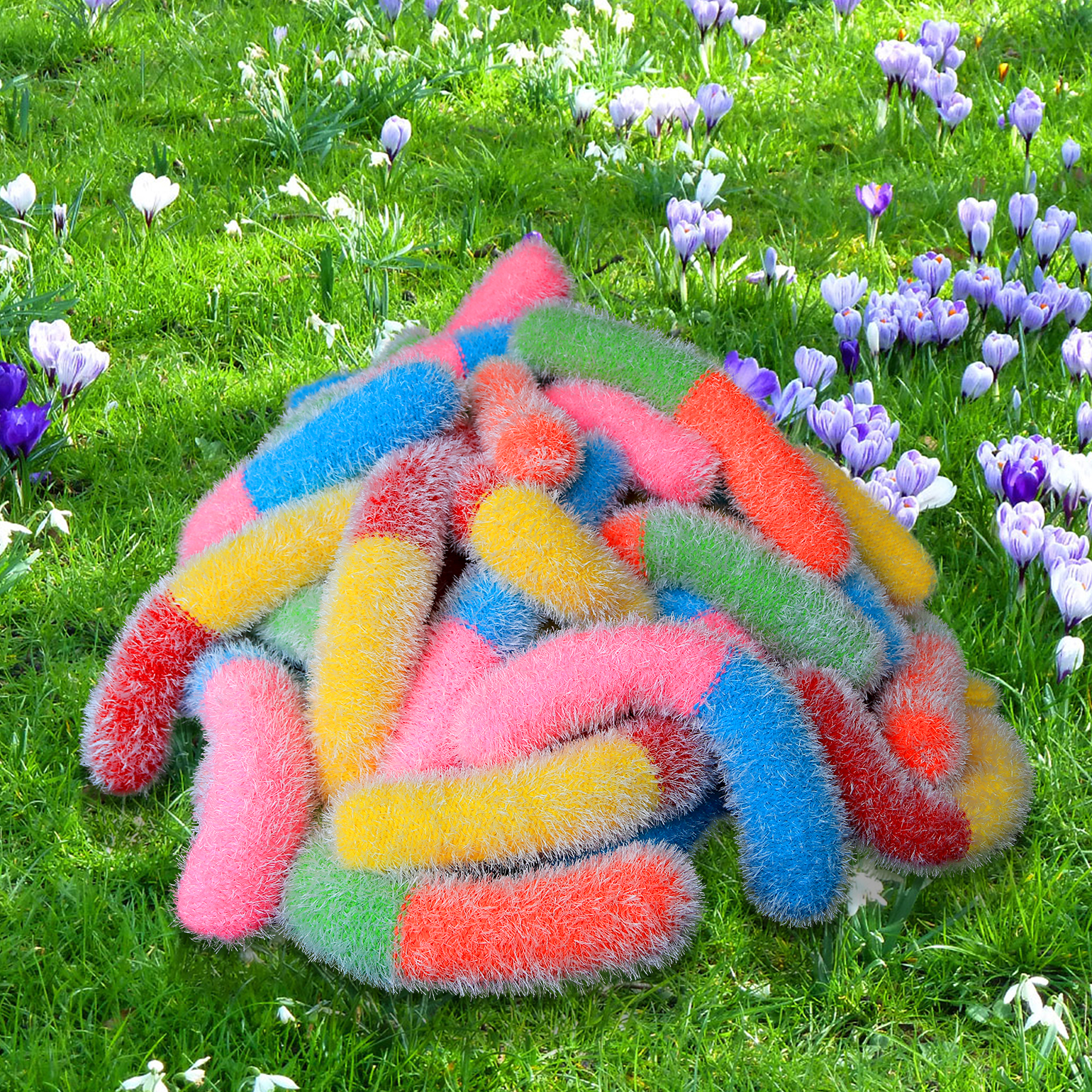 What brand(s) of yarn did you use to make your install?
Red Heart Super Saver and Caron One Pound. I also used a lot of miscellaneous thin yarns for my sausage sweaters; they're lace weight. My favorite yarn sizes are 2/24 or 2/17 in machine knitting yarn. My knitting machine is the Brother KH-970.
Why did you choose that brand/product?
That's the yarn that was leftover [from the other Intangible installations]. I've come to enjoy the vast colors available in the Red Heart Super Saver line!
Tell us about an experience that you had with this brand.
I had a great selection of the leftover yarn a few months ago, but as Sweet Tooth Hotel has been going through and making pompoms out of their leftovers, I've had to go shop for a little bit of yarn for my "hairy tubes." All the craft stores and websites are sold out of a lot of yarn colors, so in the past few months, I've gone to the stores every time I leave the house and check online constantly to source the colors I need.
What was the biggest challenge/challenges in creating your install?
The time crunch was hard to juggle simply because doing the same thing for extended periods of time hurts my body now that I'm OLD. But I commit to doing my physical therapy any time I have a time crunch; that is the only way I can function.
How does your installation play off of your art practice "Soft Surprise"? Did any of your past work inform what you created for Intangible?
Yes! I have always been fond of my flagship product "sausage sweaters." It's really a silly product and I am always tickled by its "purposelessness" because that is a source of confusion for many. I love wordplay and I really think that "sausage sweater" is completely self explanatory and I love how it's open to interpretation. I played with words in my other pieces as well, in how I named them. The tube as a form is very versatile; I love thinking of the human body as a tube as well (however, intricate). Since "sausage sweaters" made it into the show simply because I had a collection of them developed and on hand, they were the jumping off point for the rest of the exhibit.
If you can share, what are your future plans in the world of fiber?
My current priority is to bring the world of fiber INTO THE COMPUTER! I'm really excited by the prospects of virtual ways of showing fiber ideas. I love zerowaste, and I honestly have limited space to prototype silly ideas forever. My range of ideas is vast; some ideas I have a hunch will sell, and others will not. For my rather outlandish ideas, it's nice that I can just show proof of concept with some computer magic (like these virtual toilet rugs I rendered)! I also just finished simulating and rendering a virtual fashion collection with my fashion designer friend and I'm thrilled to explore more "fiber craft" in the digital world! There are ways of simulating knits as well, and I can't wait to give that a try.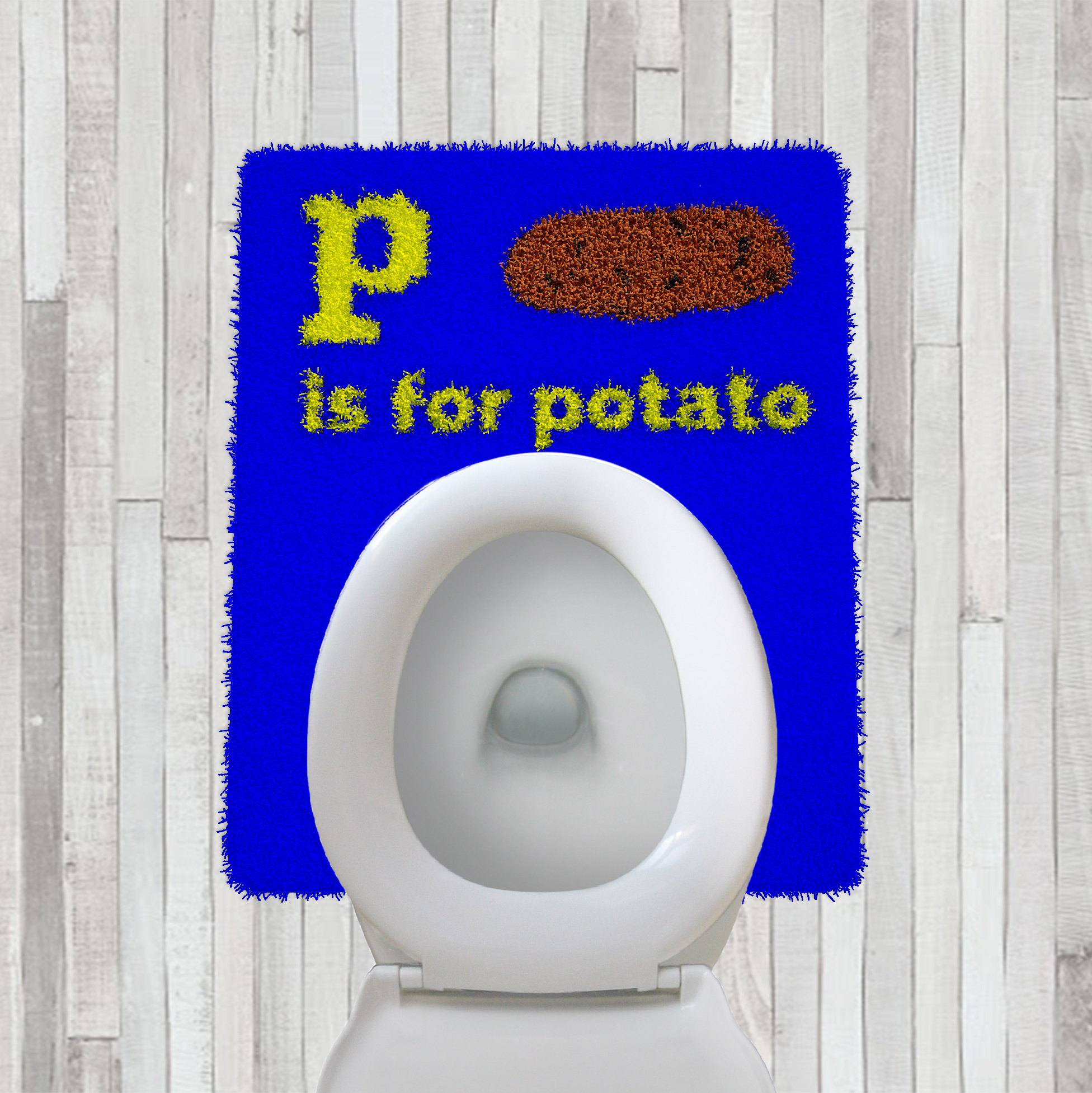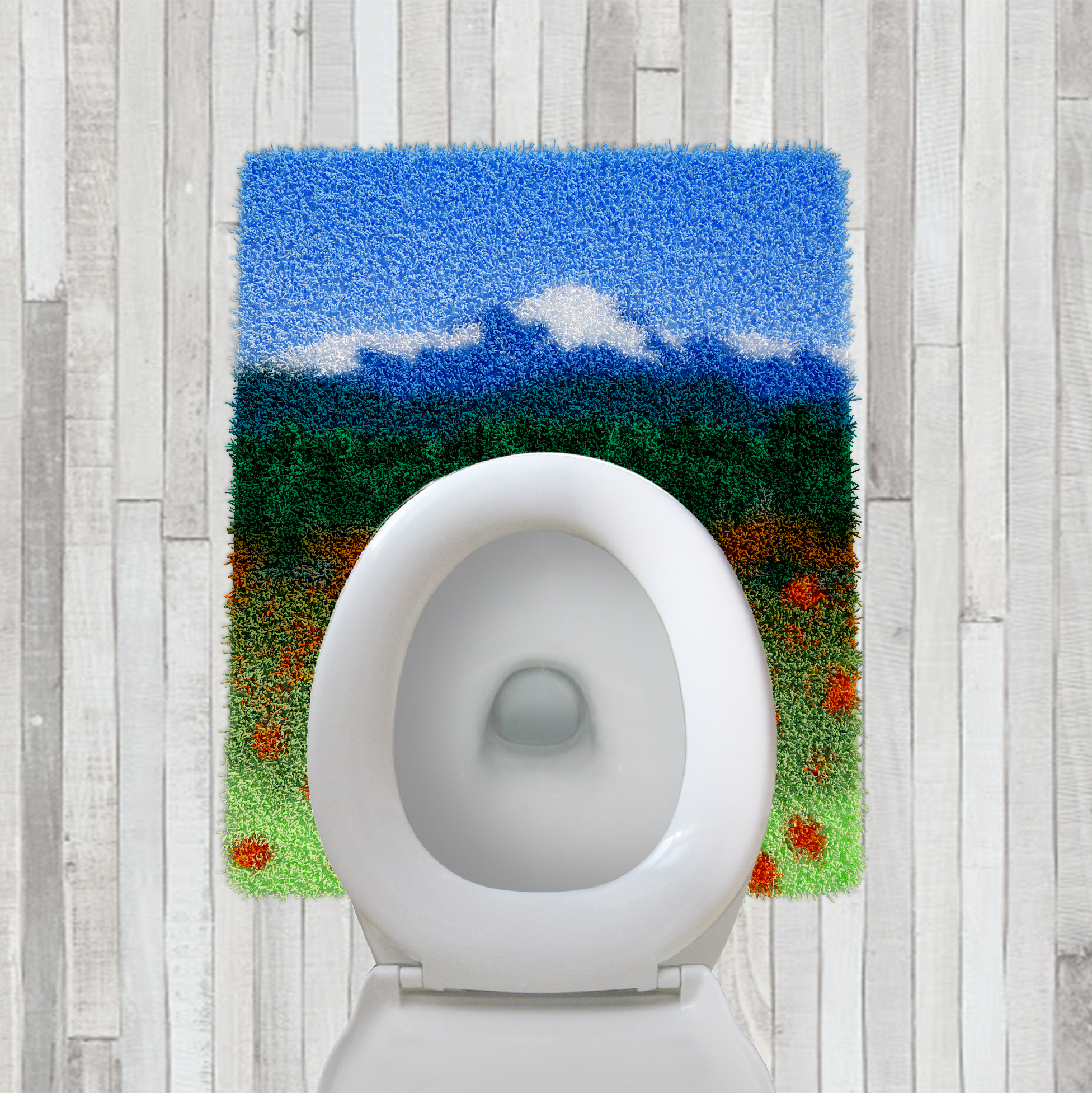 If you can share, what are your future plans in the world of fiber? (continued)
I'm also excited to make video content about a "character" I developed named GoPro Grandma (she knits (of course), makes doilies, loves applesauce, reviews rocking chairs etc.). My hope is to see if this video content can bring comedy into knitting, first and foremost! I already try to keep a lot of my knitted creations humorous/unexpected and my greatest wish is that GoPro Grandma can help me take it to the next level! Besides that, I look forward to making more silly objects and products and watching them go through puberty on my Instagram page.
Is there anything else you'd like to share?
I am very grateful for the opportunity to explore a "new body of work" that has an immediate home! My Intangible experience isn't quite the same as the other artists, but I was thrilled with how flexible Sweet Tooth Hotel has been with all my whims. When I created some "hairy tubes," I just texted Jencey [Keeton, founder of Sweet Tooth Hotel] with "hey I just made these, should I make more for STH?" I'm used to being met with a lot of resistance with my work; I haven't really figured out the right audience for my silly creations. So the amount of YES that I've received in this whole process has been really unreal. The full-hearted enthusiasm for my work has been very transformative and encouraging!
Sweet Tooth Hotel installation image courtesy of TA Visuals. All other images courtesy of Joanna Lin.