Heidi Gustad of Hands Occupied is full-time knit and crochet desinger. She not only runs her blog Hands Occupied, but she also teaches workshops and co-hosts the Very Serious Crafts podcast. On her blog, she writes about knit and crochet, but she also delves in other yarn crafts and general crafts. She came up with the name for her blog because she likes to keep her hands busy and knit and crochet are the perfect crafts for an anxoius mind!
Without further ado, we are happy to share with you Hand Occupied's Happy Place!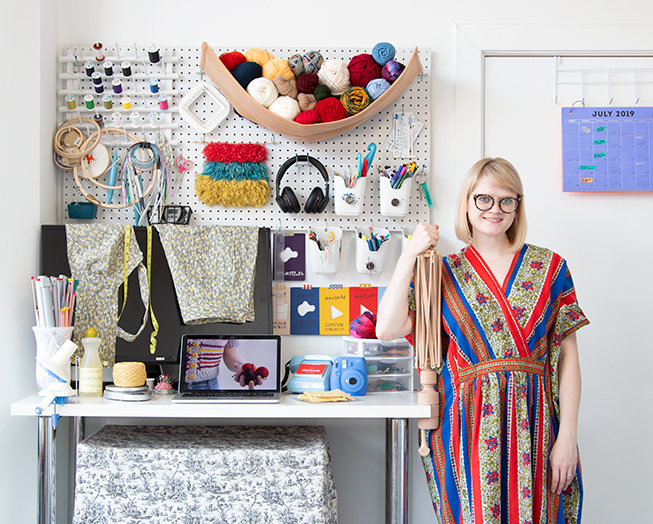 What system do you use to organize your yarn?
I don't keep a particularly large stash, and mostly, I organize by color.
What furniture/storage systems do you use to organize your yarn?
I have a wall of pegboards in both my home office and studio. My stash lives at home. (I don't expect my studio neighbors, none of whom are crafters, to understand the dangers of moths.) My yarn sits on homemade felt hammocks that hang between pegboard hardware. I used to hang hanks from pegboard hooks, but I was worried about it stretching over time.
I design knitting and crochet patterns, as well as other yarn craft projects (think latch hook, punch needle, weaving, etc.). I don't stash a lot because I've almost always got new yarn to design with on a deadline. I used to be a Librarian, so when I decide it's time to let go of a skein, I donate it to a former colleague's knitting circle or teen center. I also do giveaways at my weekly craft night, as well as donating to The Wasteshed, a nonprofit creative reuse center located in Chicago that accepts donations of reusable art supplies, school materials, office supplies, and more.
How do you like to de-stash?
Once a year or so I go through a big WIP-finishing phase, but it's only ever a project or 3. I'm big into donating unneeded supplies to nonprofits dedicated to reuse and getting supplies in the hands of people who want to create with them.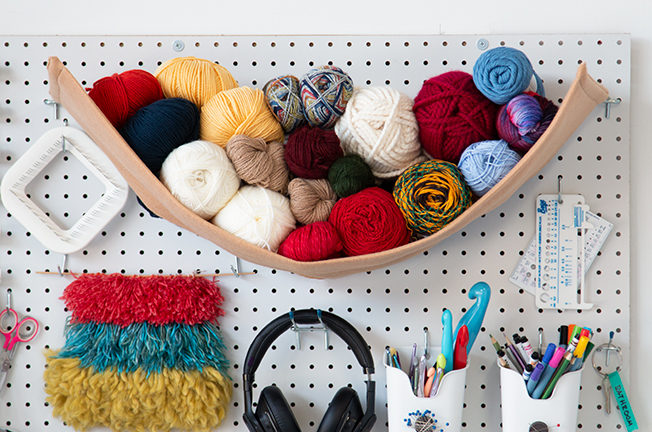 More often than not, what colors are always in your office/yarn corner?
Primary. Colors. Are. The. Best. Colors.
Do you like to work in the same space where your yarn is stored? Why or why not?
No.
I wanted the room in my 200 sq. ft. studio to be available for Craft Nights, Crafternoons and workshops. Also, my studio walls don't reach the ceiling, and like I said, a lot of people don't know about the dangers of clothes moths and yarn and fabric. :)
When you are working on a project, do you have a specific spot you put it when you aren't working on it, or does it follow you around beyond your space?
Oh, it totally follows me around. 100%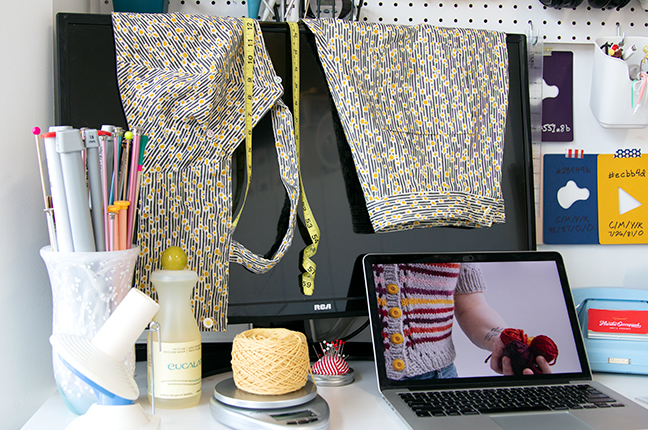 How important is a well-organized yarn corner/office to your mental wellbeing?
Not at all. :) Working on a project is the key to my mental health!
Where did you purchase everything shown in the photos you submitted?
All of the pegboard panels in my Studio and home storage space are 2'x4' and can be found at most big hardware stores. The hooks and hangers that I most often use with my system are Everbilt brand. The hammocks are large rectangles of felt folded in half (it was whatever felt I had of a decent yardage in my fabric stash at the time of creation). At each end of the felt, I machine sewed a rectangle with one open end, creating a type of casing into which pegboard hangers can go for mounting the hammock to the pegboard.
Share any tips or advice you have for someone who is trying to reorganize their stash.
Use reorganizing as an opportunity to check for moths if you're already taking your whole stash apart. Once you know you're in the clear, use hormonal moth traps to alert you to their presence in the future. When it's time to make de-stash decisions, be honest with yourself about how much yarn your home/office can accommodate. When it's a yarn's time to move on, be thoughtful about where your donation is going to ensure re-use.
Share any current projects or promotions.
I'm always publishing new patterns, tutorials and inspirational blog posts on handsoccupied.com. Every year, I host a Read Along Knit Along (or Crochet Along) on my blog/Ravelry/Instagram. I design a pattern inspired by the book we'll be reading, and makers are encouraged to listen to the book on audio as they work. It's a lot of fun! The next Read Along will take place this fall.