Jenae Goode is a weaver from Dallas who transitioned from science teacher to full-time weaver a few months into the Covid-19 pandemic. Through her Etsy shop Goode Weavings, she creates original, handwoven tapestries and custom orders inspired by nature, lanscapes and color. One of her goals is for her pieces to reside in every state in the U.S. and so far she has hit fifty percent of her goal! Jenae also offers weaving classes to share her skills with anyone interested in learning how to weave!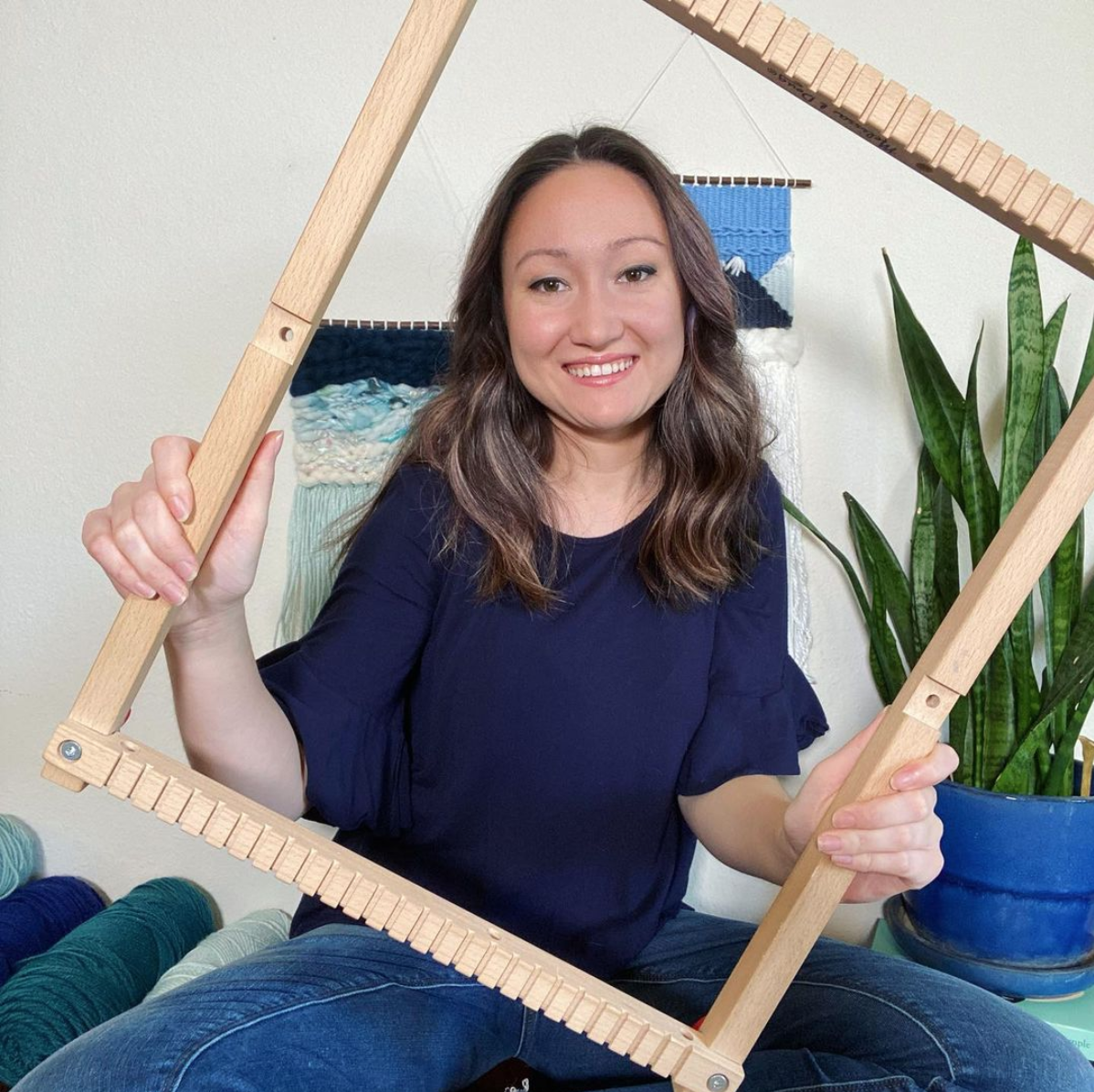 What system do you use to organize your yarn?
I organize my yarn by color in cubbies. I also use a rolling cart to keep yarn organized for current projects.
What furniture/storage systems do you use to organize your yarn?
I have a cubbies from IKEA for all of my yarn. My rolling cart is from Michaels that stores current project materials.
How do you like to de-stash?
I'm a yarn hoarder, so I have yet to de-stash. I have found myself creating projects that I don't love just to use up a certain yarn, so I'm considering selling fiber packs soon!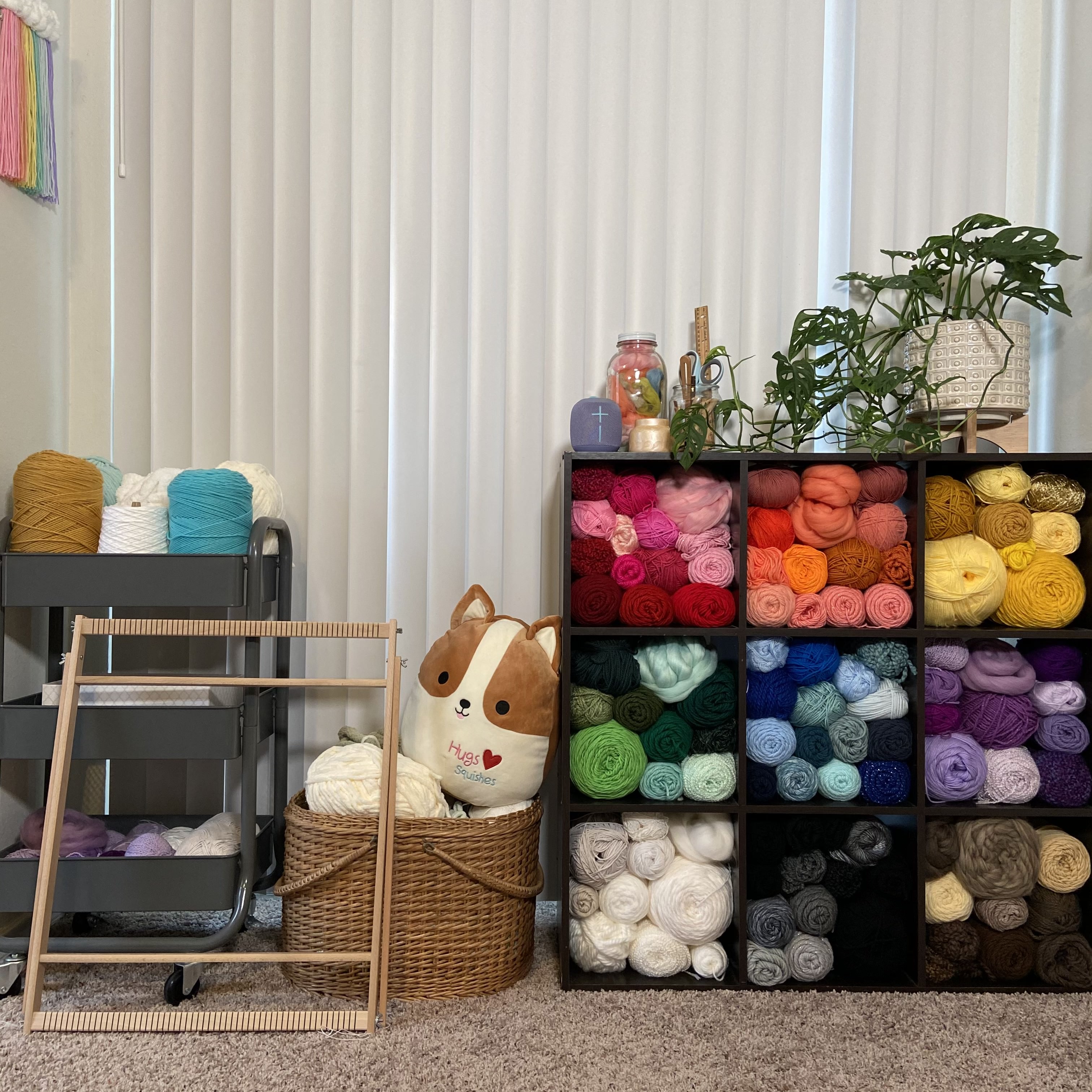 More often than not, what colors are always in your office/yarn corner?
My work is all over the place, and I love to use all colors. I rarely create neutral pieces, but I still always have white nearby to add some neutral space or details to my work.
Do you like to work in the same space where your yarn is stored? Why or why not?
Yes. I would like to have my own studio space eventually because working beside my yarn seems ideal. For now, as I work out of my apartment, I don't mind rolling my yarn from my bedroom to the living room.
When you are working on a project, do you have a specific spot you put it when you aren't working on it, or does it follow you around beyond your space?
I set my project on the table where I take photos. It helps to be able to step back from it and see what direction it's taking.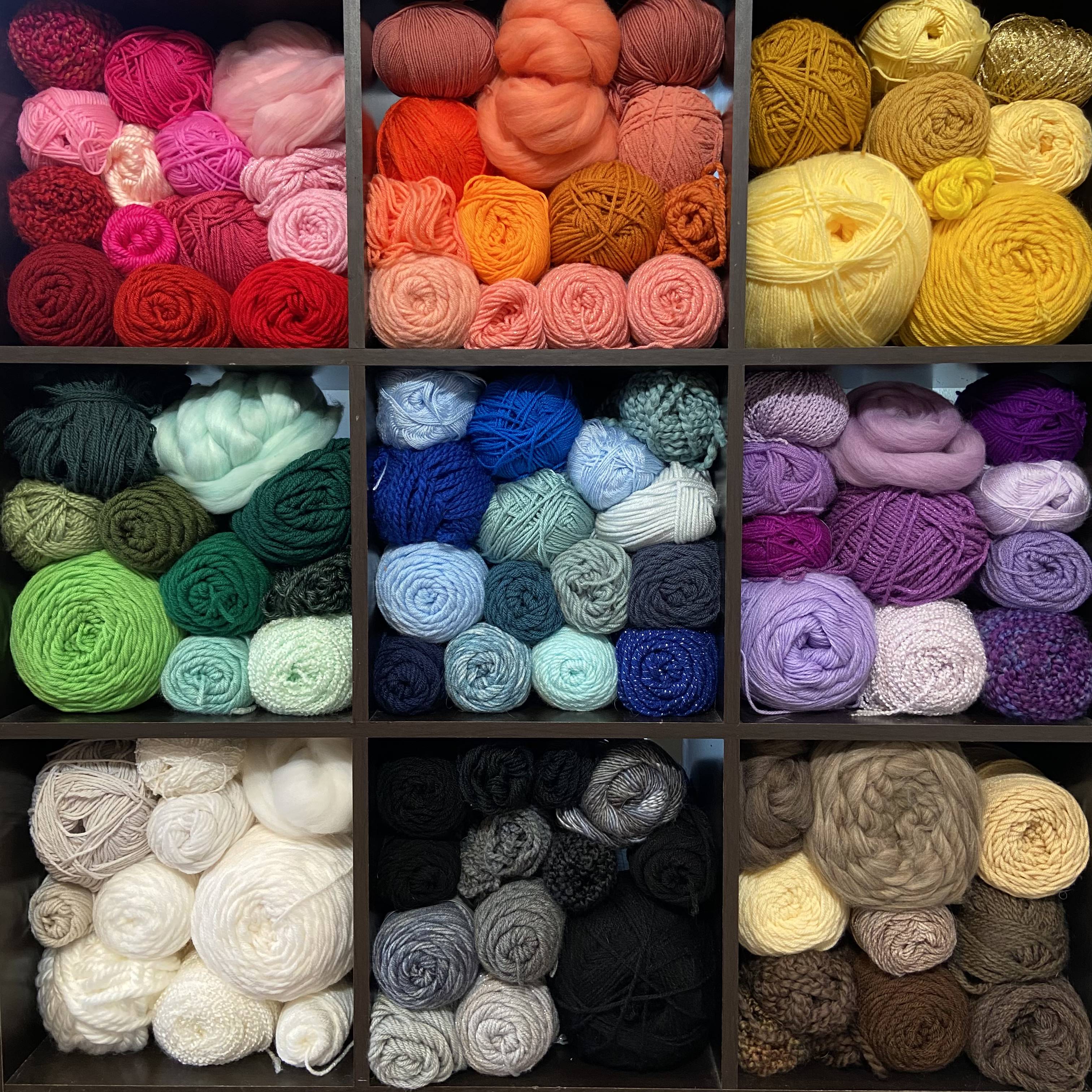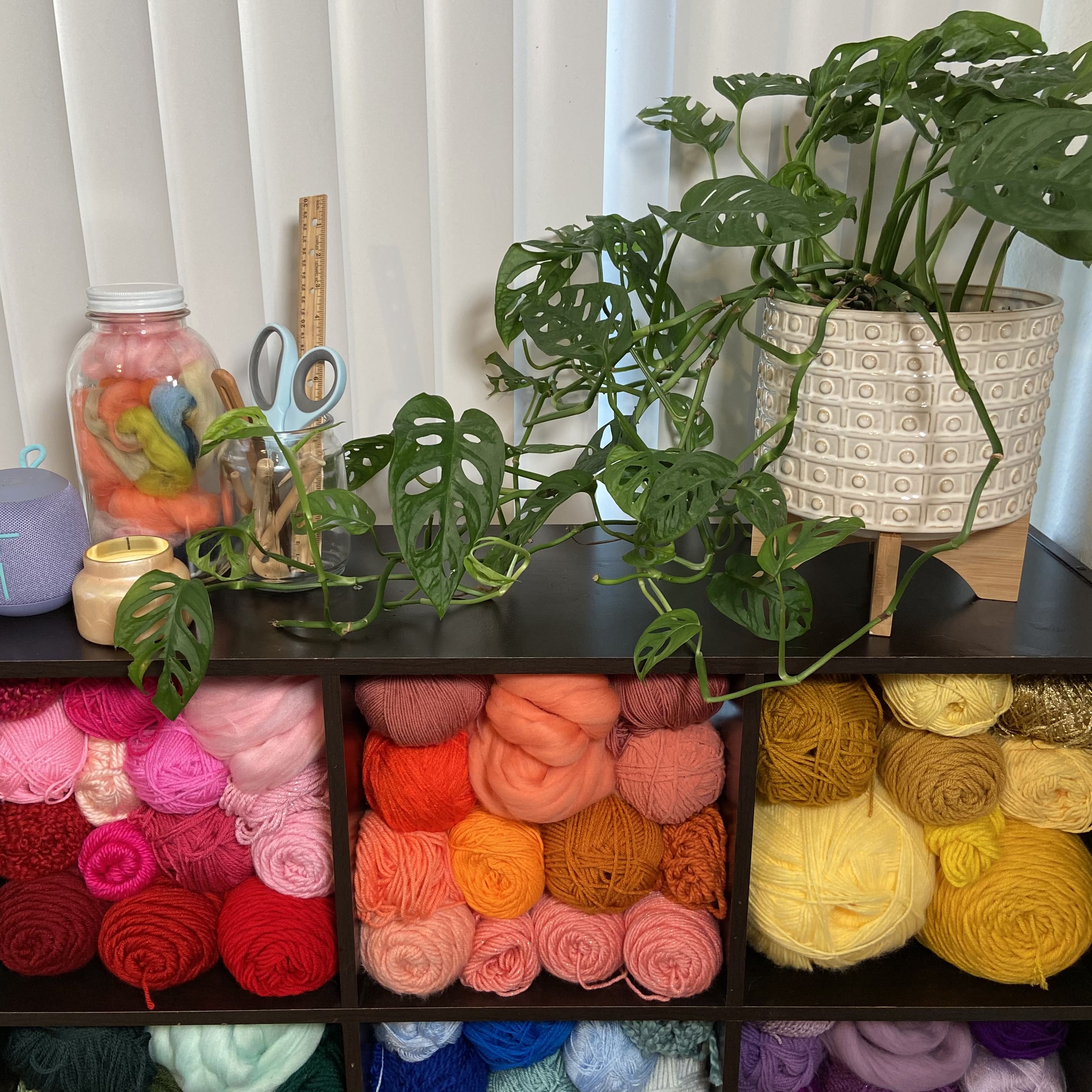 Was the majority of your yarn bought with a project idea in mind?
No, I have thrifted or bought a lot of yarn second hand. I usually let whatever yarn I have excess of direct me for project ideas.
Do you or have you ever found it difficult to manage/organize your yarn?
Yes, I get a lot of yarn out for projects and I'm not the best about putting it back up after. The rolling cart has helped because I don't fill it up with a new projects yarn until I've cleaned it out.
How did you find an organization system that works for you?
I have experimented with different systems, and I stuck with the one that kept as little yarn out as possible. Also, I work in a different room than I keep my yarn, so I needed a way to easily carry the yarn.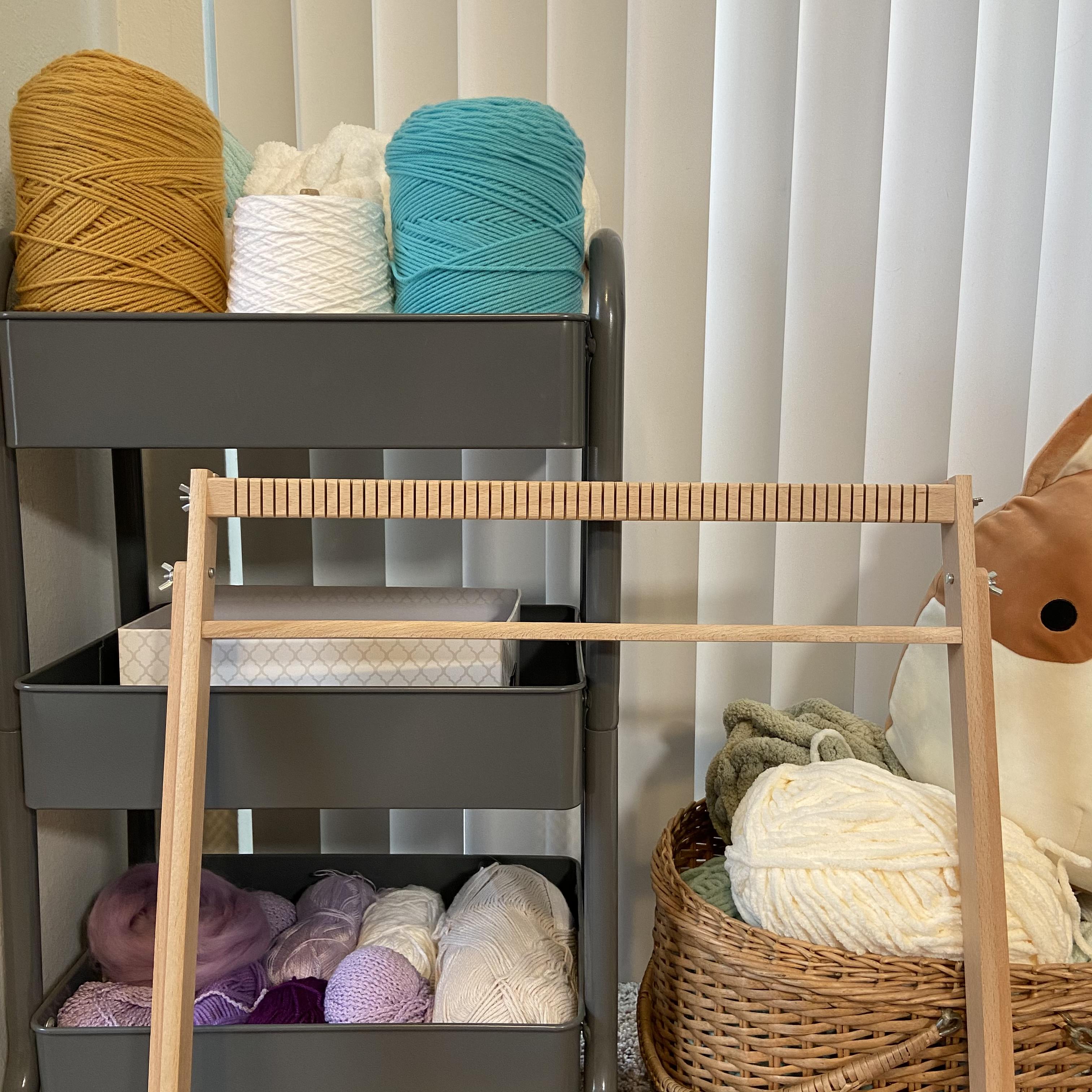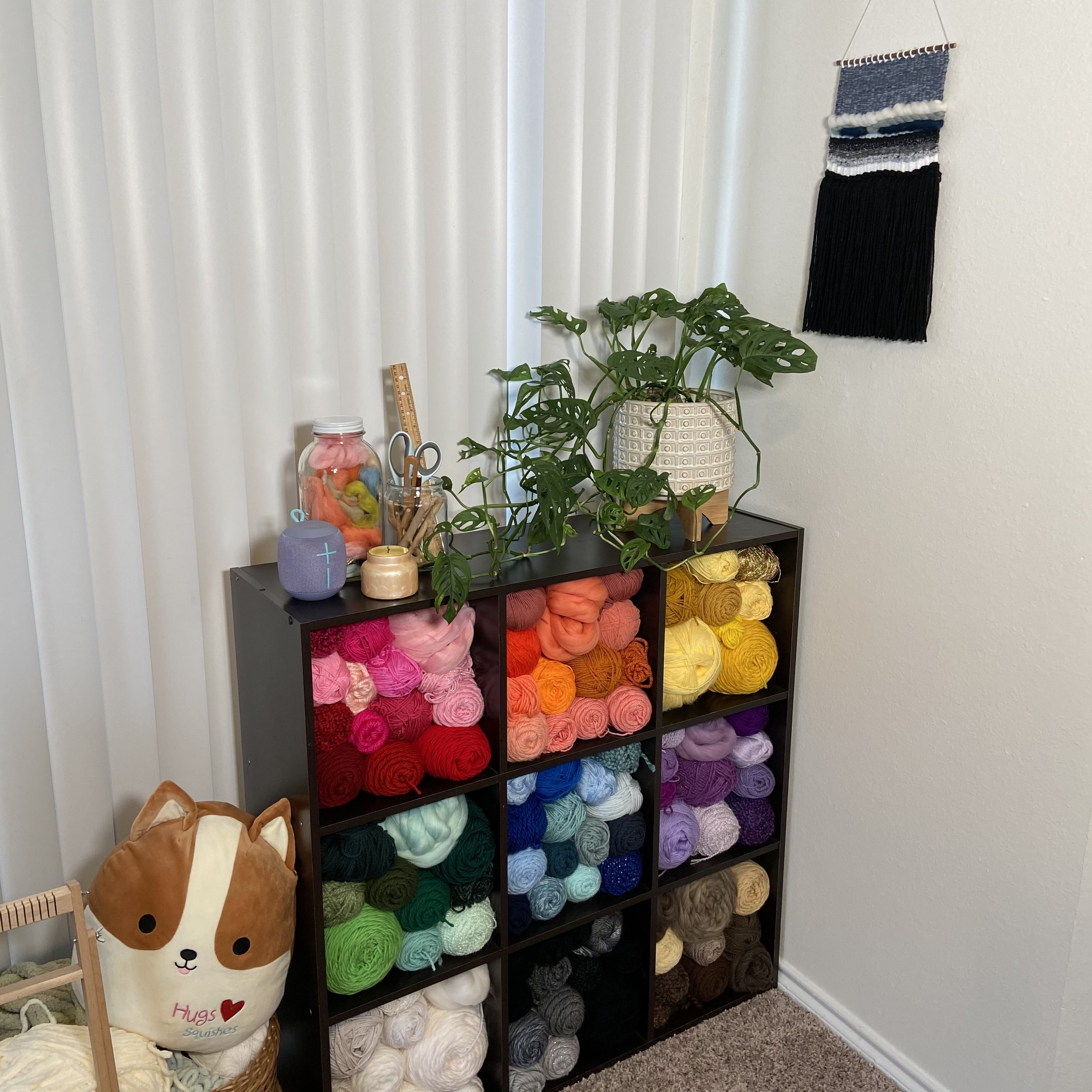 How important is a well-organized yarn corner/office to your mental wellbeing?
It's so important for me and my projects. I start to feel overwhelmed if my yarn corner gets messy. I feel much more creative when my space is clean and in rainbow order.
Where did you purchase everything shown in your photos?
IKEA cubbies, cart from Michael's, and basket from thrift store.
Do you have any tips or advice you have for someone who is trying to reorganize their stash?
I would advise you to organize in a way that makes you happy! A great reward for organizing is getting to show off your workspace and finding yarn you may have forgotten about that you really want to work with! If you're like me, you may have a tub of yarn that doesn't fit in your cubbies, and that helps me experiment with projects using yarn that I have an excess of.
Are there any current projects or promotions you'd like to share?
I am working on creating fiber packs to include in weaving classes that I will begin teaching at the end of March. If you are interested in learning how to weave, follow me @goode.weavings to get information on in person and online weaving opportunities!
Photos courtesy of Jenae Goode.