Margaret Stauffacher is the knitter and designer behind Whimsy North. She was born and raised in Minnesota and now lives in Wisconsin with her husband and children. She learned to knit when she was six years old from her mom and since then, she has been on a mission to create knitting patterns that are fashion-forward and something you want to wear or display in your home. You'll find free knitting patterns on her blog and helpful knitting videos on her YouTube channel!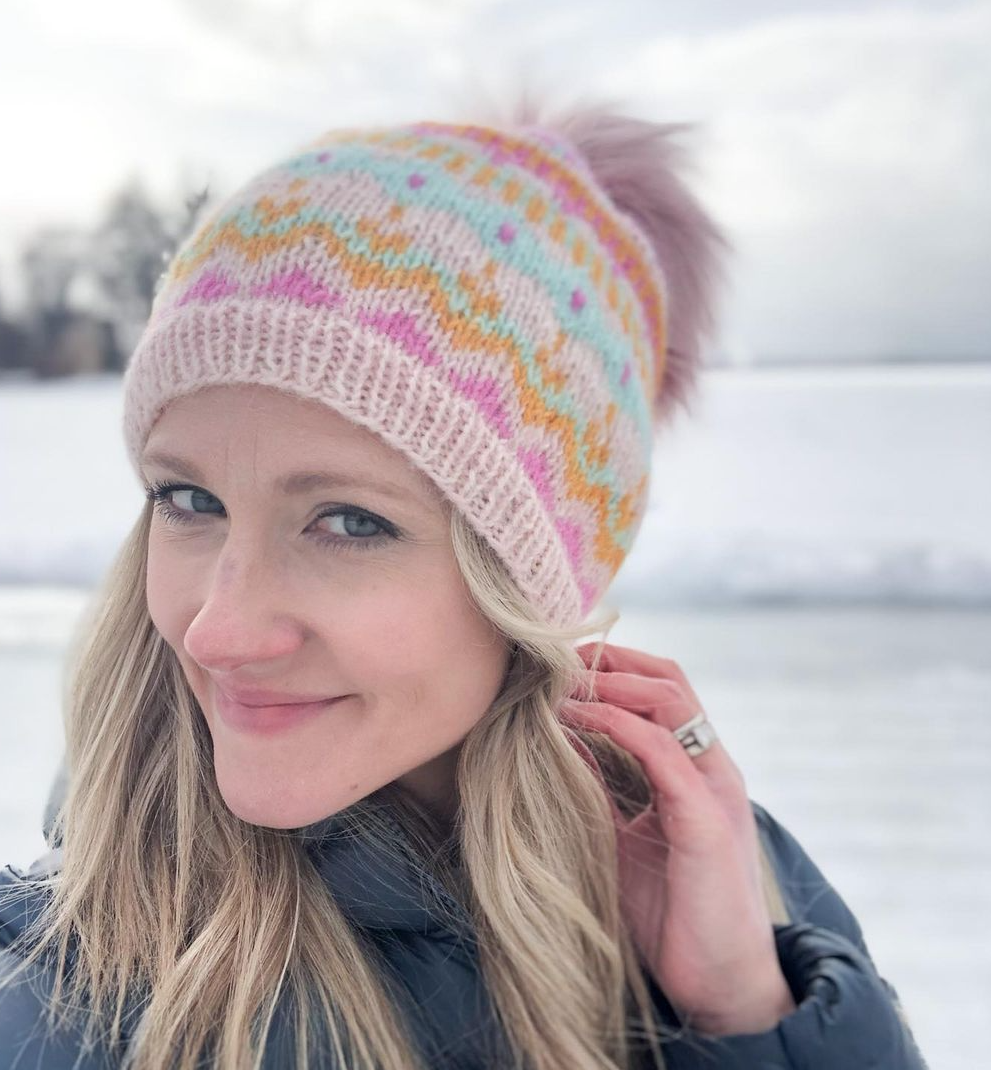 What system do you use to organize your yarn?
I organize my yarn by weight.
What furniture/storage systems do you use to organize your yarn?
My main storage system is a built-in cabinet/bookcase in my attic. Originally I stored all of my yarn in plastic bins and baskets in my master bedroom closet. Then when I started my knitwear design business I took over half of my kid's playroom in the attic for my yarn storage. This is where I showcase the majority of the yarns that I use in my designs. I still have some yarn in bins and baskets in my closet that don't fit in this space.
How do you like to de-stash?
Currently my only way to de-stash is to use the yarn in a project. Once a year I do a sample sale where I sell finished knits and that helps to thin out my stash.
More often than not, what colors are always in your office/yarn corner?
Pink is my favorite color and so you will see all shades of pink in every type of fiber and weight. I also love white and other neutrals, as well as fun pops of color and speckles. Bright colors are one of my favorite things to knit with.
Do you like to work in the same space where your yarn is stored? Why or why not?
No. While I love my attic space, I'm a busy mom of 3 and typically can only squeeze in knitting time while sitting in the car at one of their activities or while they are playing. I don't have a lot of time to sit by myself and knit so having my Jimmy Bean's Wool Mini Makers Backpack packed with my current project and ready to go allows me to knit wherever I am. My favorite places to knit are outside by the lake or in a cozy chair in my living room. That way I can still see my kids while I'm knitting.
When you are working on a project, do you have a specific spot you put it when you aren't working on it, or does it follow you around beyond your space?
I have many WIPs (work in progress) in spaces throughout my house, however, my main project is always kept in my Jimmy Beans Wool Mini Makers Backpack. This backpack stays on a bench near my kitchen so I can grab it anytime I'm going out the door and take my knitting with me. I also have projects in a drawer in my attic and some near my nightstand in my room. Sometimes they take over the house!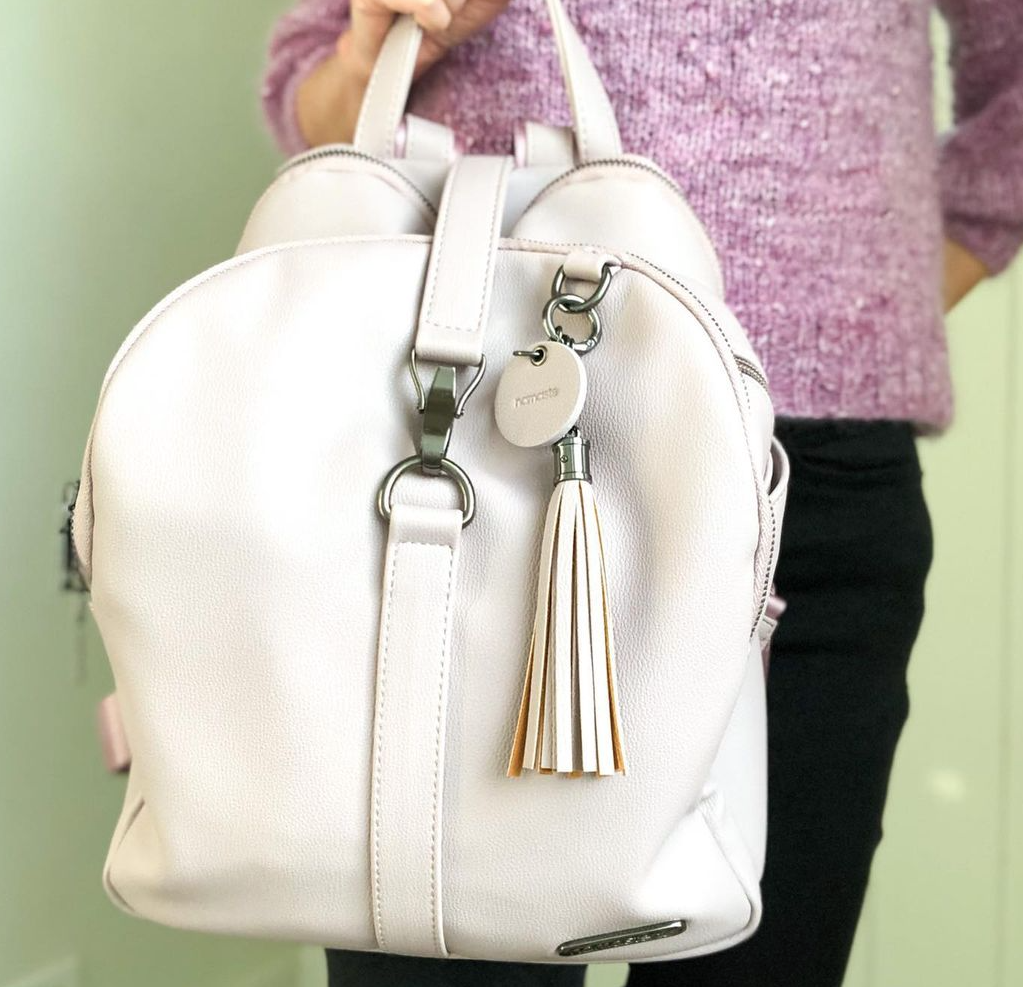 Was the majority of your yarn bought with a project idea in mind?
I typically try to buy yarn with a project in mind. However, I often find that once I get time to work on that project it many times changes into something else. Having many colors, weights, and fibers of yarn available in my stash is nice when a design idea comes I can head upstairs to my stash and play with ideas on how a particular yarn may work for it.
Do you or have you ever found it difficult to manage/organize your yarn?
I'm always trying to find new ways to keep up with my yarn stash. Sometimes it ends up just staying in the box that it was shipped in until I can find room for it somewhere. There are always open boxes of yarn all over my attic!
How did you find an organization system that works for you?
For me, being able to see my yarn out in the open helps with the inspiration process of designing. When I housed all my yarn in bins and baskets I was constantly sorting through them trying to decide what to create. Now I can see it all at once and that really helps to come up with new ideas.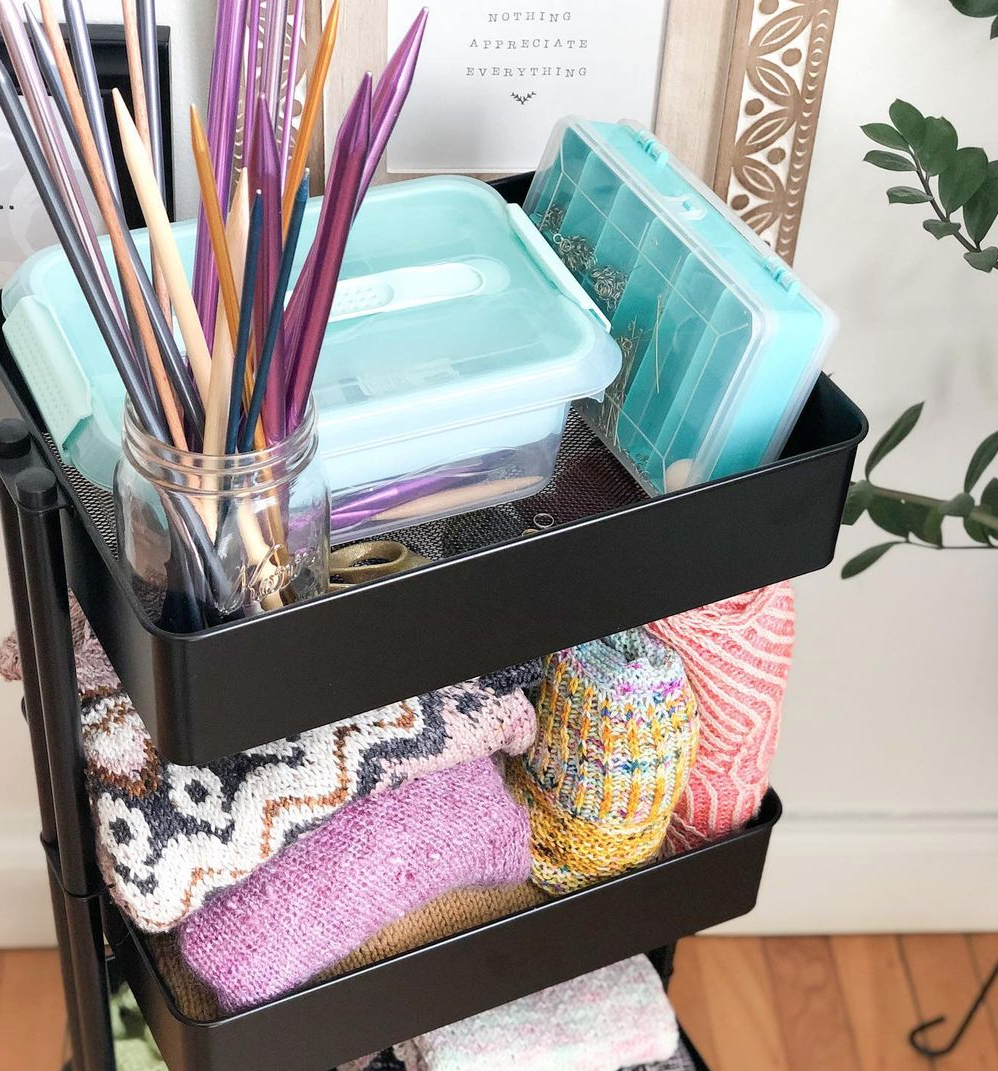 How important is a well-organized yarn corner/office to your mental wellbeing?
Having my yarn organized brings me happiness every time I step into my attic space. It also helps to inspire the design process.
Where did you purchase everything shown in your photos?
The bookcase/cabinet I use for the majority of my yarn was custom built by an Amish family in Wisconsin. My rolling cart that I keep my finished knits on in my closet is from Michaels. The brown baskets that I use to store yarn on top of my cabinet and within is from Hobby Lobby, and the white drawer/bins that I keep my business materials and unfinished designs in came from Target.
Do you have any tips or advice you have for someone who is trying to reorganize their stash? I
My main tip for organizing yarn is to put some out in the open that you can see everyday. If you can find a way to have some of your pretty yarn showcased where you can see it can be very inspiring and bring you joy. This could be in a bookcase, on a shelf, or in a basket turned on its side. For knitters and crocheters, I think organizing your yarn by weight makes selecting yarn for a projects easier. Then you can go one extra step and organize those sections by color to give your stash more of a visual appeal.
Are there any current projects or promotions you'd like to share?
My new Desert Weather Shawl knitting pattern is being released this week, as well as a new sock design. Both use fingering weight yarns.
Photos courtesy of Margaret Stauffacher.