Marisa Morrison Stein of the blog The Neon Tea Party is on a mission to empower people to get in touch with their creativity through colorful, globally-inspired crafts. She hosts in-person workshops, virutal classes and craft parties over a variety of crafts, including pompoms, friendship bracelets, macrame, weaving and so much more. She even sells amazingly colorful kits, yarn and crafting supplies on her website to help you get started on your next craft project.
Without further ado, we are happy to share with you The Neon Tea Party's Happy Place!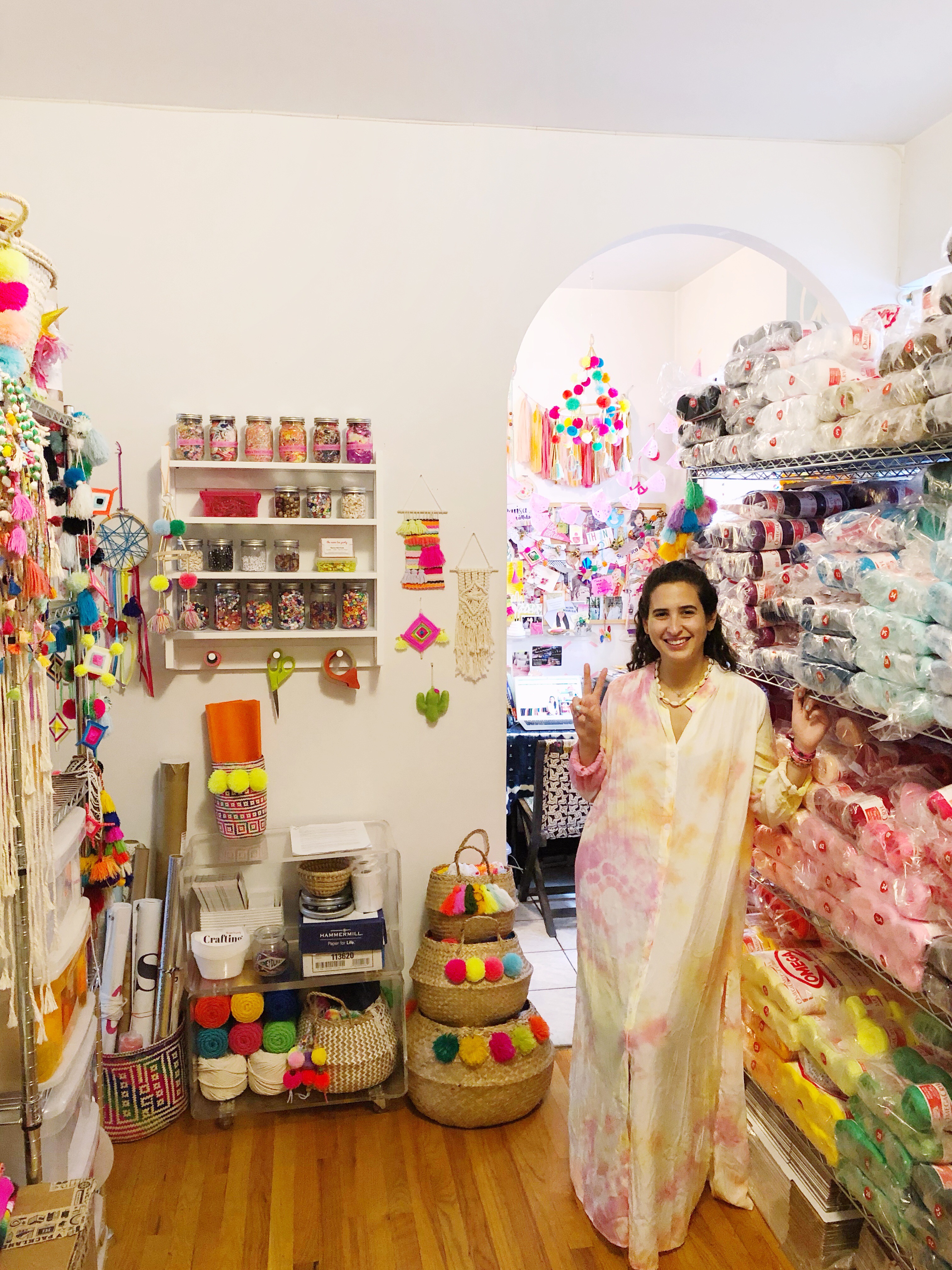 What system do you use to organize your yarn?
As a crafter, I mostly work with two types of yarn: Omegacryl (a thin Mexican acrylic yarn) and standard worsted weight acrylic. I use Omegacryl the most so it has its own large dedicated drawer on my crafting shelf, which is easy to access and stows away neatly. The rest of my yarn is rolled into balls and stored in pom pom-adorned belly baskets that are stacked up. I also sell Omegacryl, so my pièce de résistance when it comes to yarn storage is a giant bakers rack, which is filled with a veritable rainbow of yarn skeins. As for leftover yarn scraps, I store those in big mason jars for small fiber projects like pom poms and weavings.
What furniture/storage systems do you use to organize your yarn?
Bakers rack for inventory; plastic drawers from the Container Store and seagrass belly baskets for my own use and teaching.
How do you like to de-stash?
I'm pretty good about not buying yarn that won't be used either by me or my students, so most of the yarn I have I end up using. If I have leftover yarn from a client project that doesn't fit the usual aesthetic of the yarns we use in our colorful projects at The Neon Tea Party, I'll put it in the hallway of my apartment building where people leave gently used items for others in the building to enjoy. But that's only once in a while!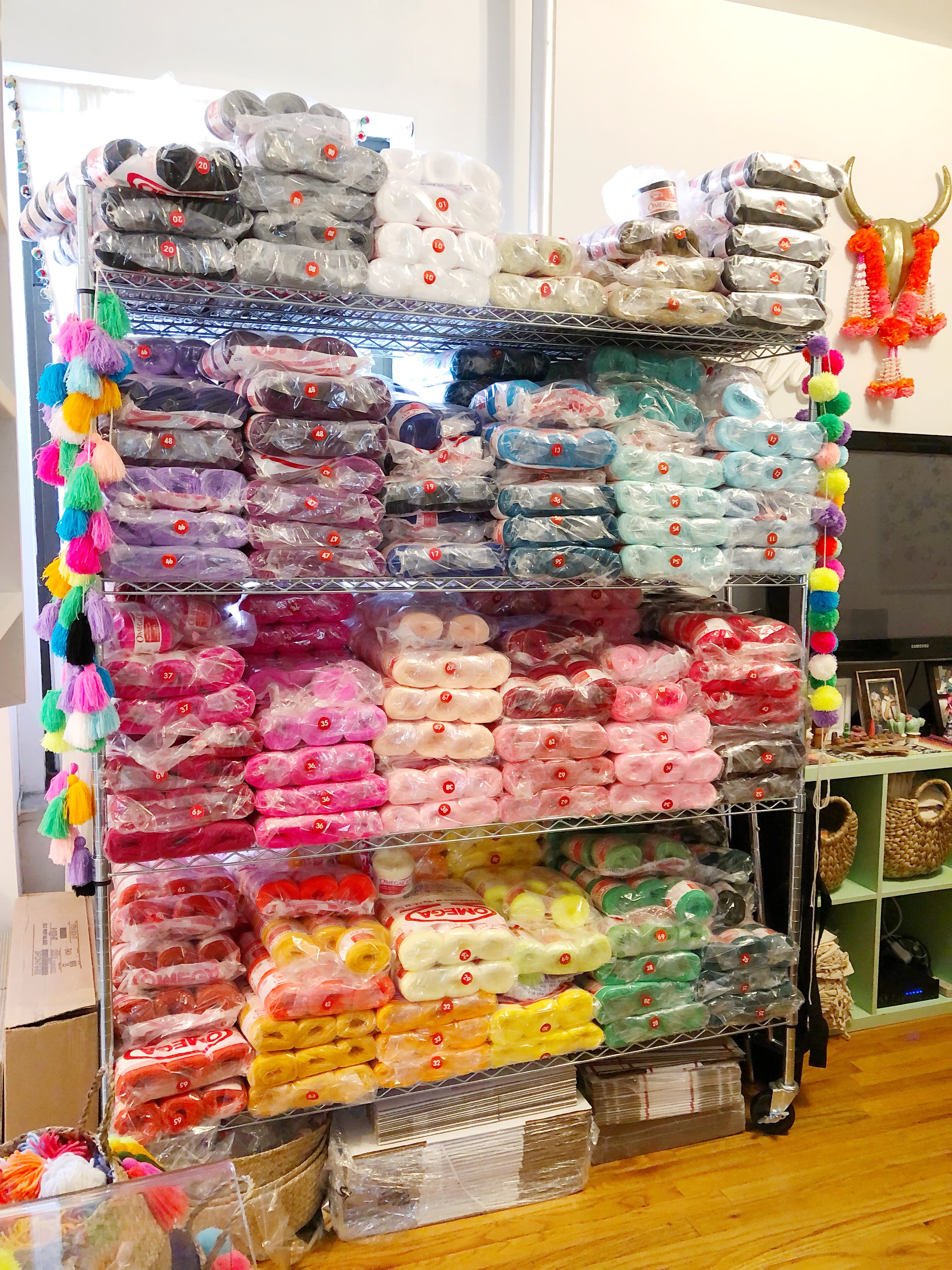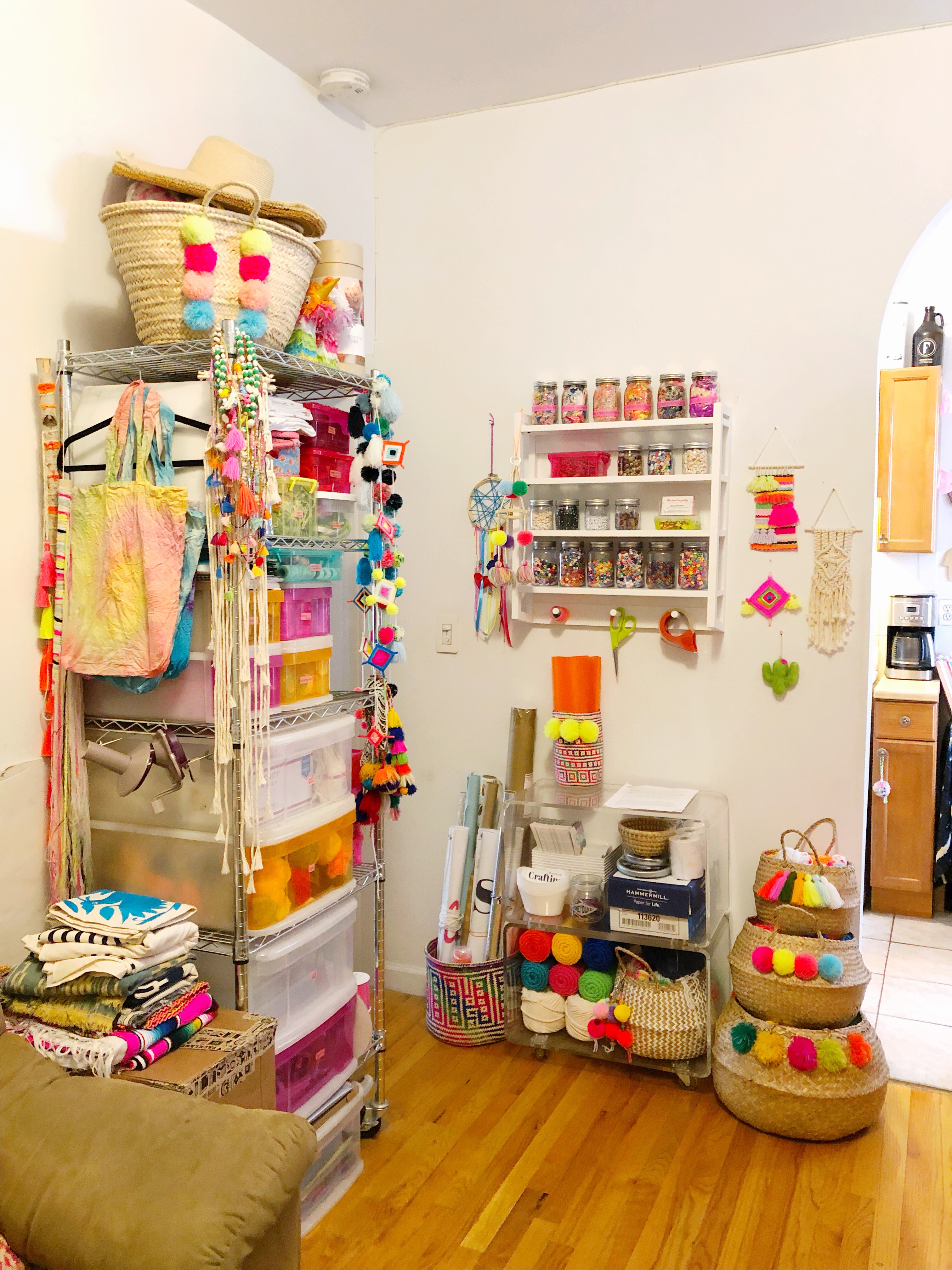 More often than not, what colors are always in your office/yarn corner?
What a fun question! My favorite colors are neon pink, orange and fluorescent yellow, so you'll find pom poms and tassels in those colors allll around my apartment! There's also a lot of green from plants and a mint shelf under our TV, and a bunch of blue from indigo textiles and some art. Basically my home office is a rainbow!
Do you like to work in the same space where your yarn is stored? Why or why not?
Yes. It's definitely inspiring for projects to see the colors and color combination possibilities! It's also motivating to see how much yarn we have in stock, i.e., how much I need to sell, so that's a very good reason to work in the same space as it!
When you are working on a project, do you have a specific spot you put it when you aren't working on it, or does it follow you around beyond your space?
I recently purchased a big lucite tray from The Container Store to stash my current projects on the middle shelf of our coffee table. More often than not, it just holds my bead board, which is hard to stash elsewhere, so I have a few little trays and bowls of craft supplies on the far corner of the surface of the coffee table. For travel, I have a designated zip pouch that always has some small craft supplies in it -- Omegacryl for friendship bracelets, my Fiskars travel scissors, assorted tools from Loome, my trusty MT washi tape, etc. If I'm working on a bigger project, I'll throw everything into a tote bag!
Was the majority of your yarn bought with a project idea in mind?
Yes, and it all started with POM POMS! Which turned into tassels, then friendship bracelets, then weaving, then embroidery... That's how I became so addicted to Omegacryl because the number of projects I could make with it was off the charts! I'm still finding new ways to use it all the time. Even though I have so much of it, I know I'll use it on one project or another!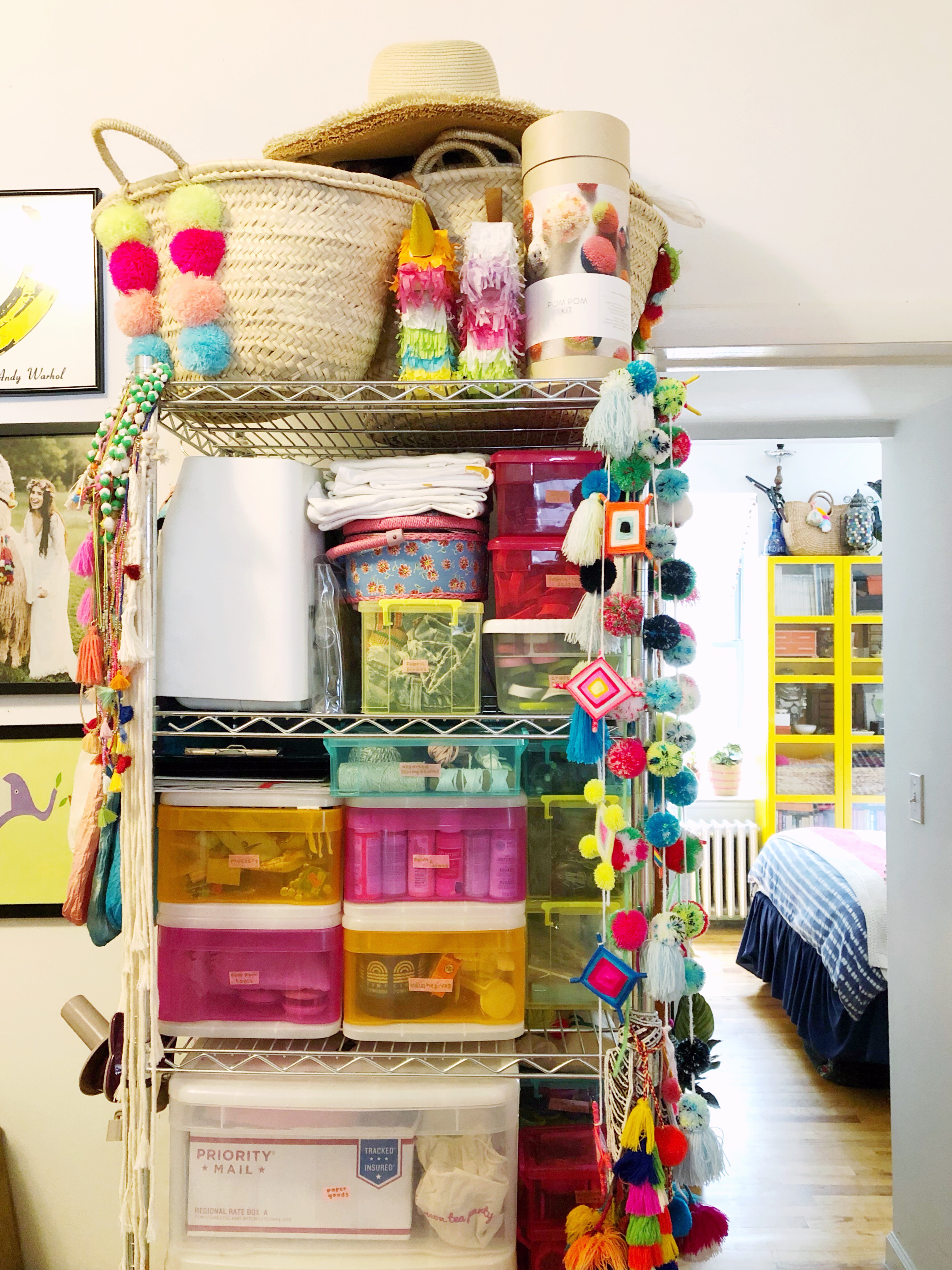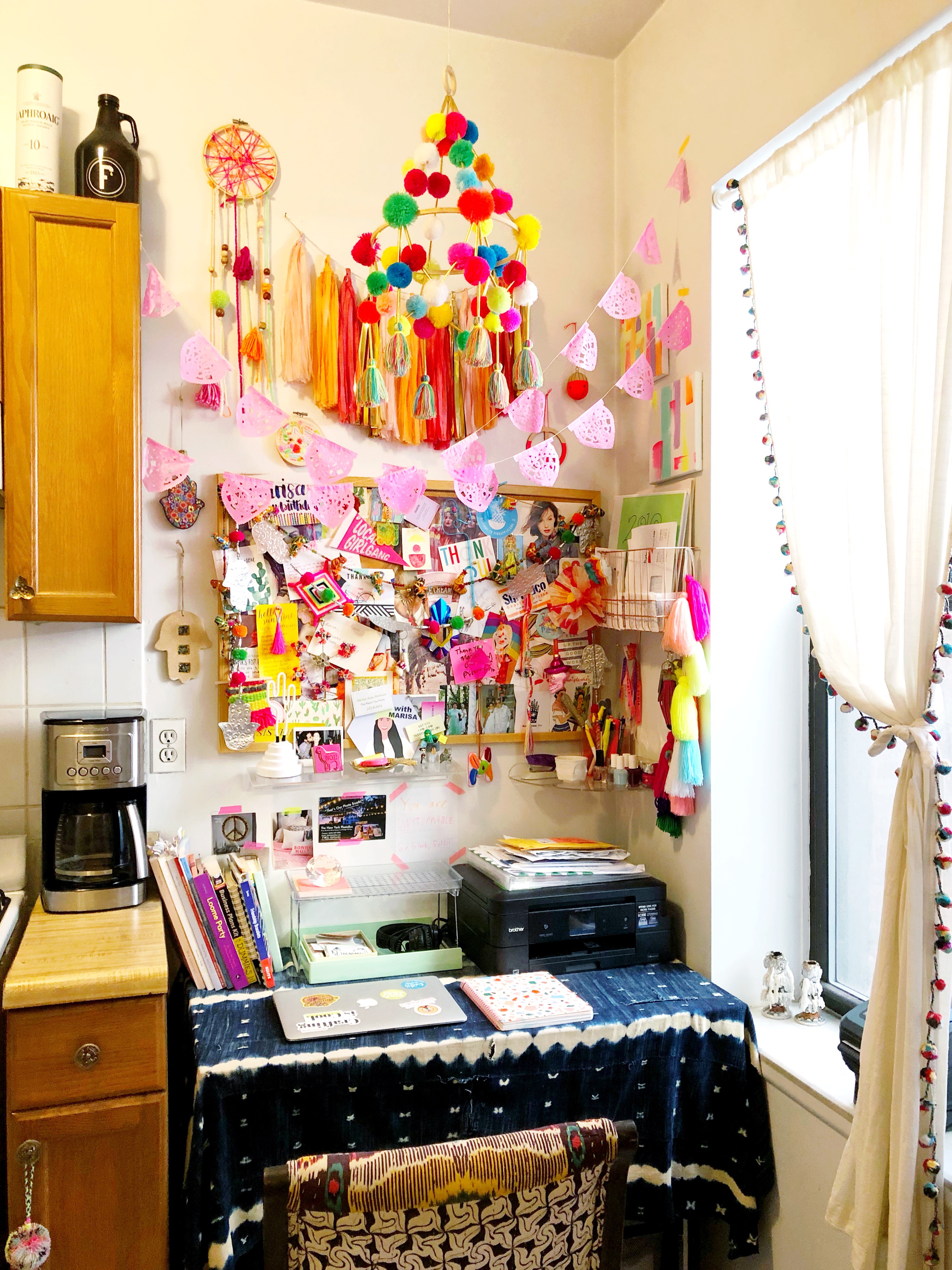 Do you or have you ever found it difficult to manage/organize your yarn?
Difficult isn't the right word. My collection grew quite rapidly so making space to store yarn has been more of the challenge, especially when I started selling it. My baker's rack takes up about 1/4 of my living room, which is about 1/8 of my total apartment!
How did you find an organization system that works for you?
For me it was all about utilizing the little space I have. I needed a free-standing shelving unit for my yarn inventory since the only spot for it was in front of a radiator and window. Luckily the style I wanted came in the perfect size to max out that space and hold all the yarn I'd ordered. Before that, I just kept the yarn in the shipping boxes they arrived in and cut big holes in the front for easy picking-and-packing. That system literally fell apart as the inventory decreased - the boxes would start collapsing on each other; it wasn't a good scene. As far as my own yarn that I use, I absolutely love belly baskets. They're the Mary Poppins bag of baskets in that you can always find room to add just one more ball of yarn!
How important is a well-organized yarn corner/office to your mental wellbeing?
Extremely important. I run my crafting education business, The Neon Tea Party, out of my tiny NYC apartment. My home is basically a craft studio and two-person home all in 450 sq/feet so organization is crucial. When it's organized, it's so fun and inspiring. But when it's a mess, the vibe gets stressful very quickly.