A native of Dalton, Georgia (the carpet capital of the world), Trish Andersen was drawn to the process of tufting as a means to reconnect with and explore her roots. After attending the Savannah College of Art and Design, Trish moved on to live and work in Brooklyn, where she spent a decade crafting custom installations and environments in New York, France, Hong Kong and Tokyo for clients including Mercedes-Benz USA and Vevo, among others. Craving a slower pace and process, she began tufting to explore the notion of a native way of being - the idea that authenticity lies in observing the characteristics of personal origin and nurturing those that reverberate in the present. Now, as a fine artist who paints with yarn, she's developed a signature style that embraces color and texture in bold strokes.
And now, without further ado, we are happy to share with you Trish Andersen's Happy Place!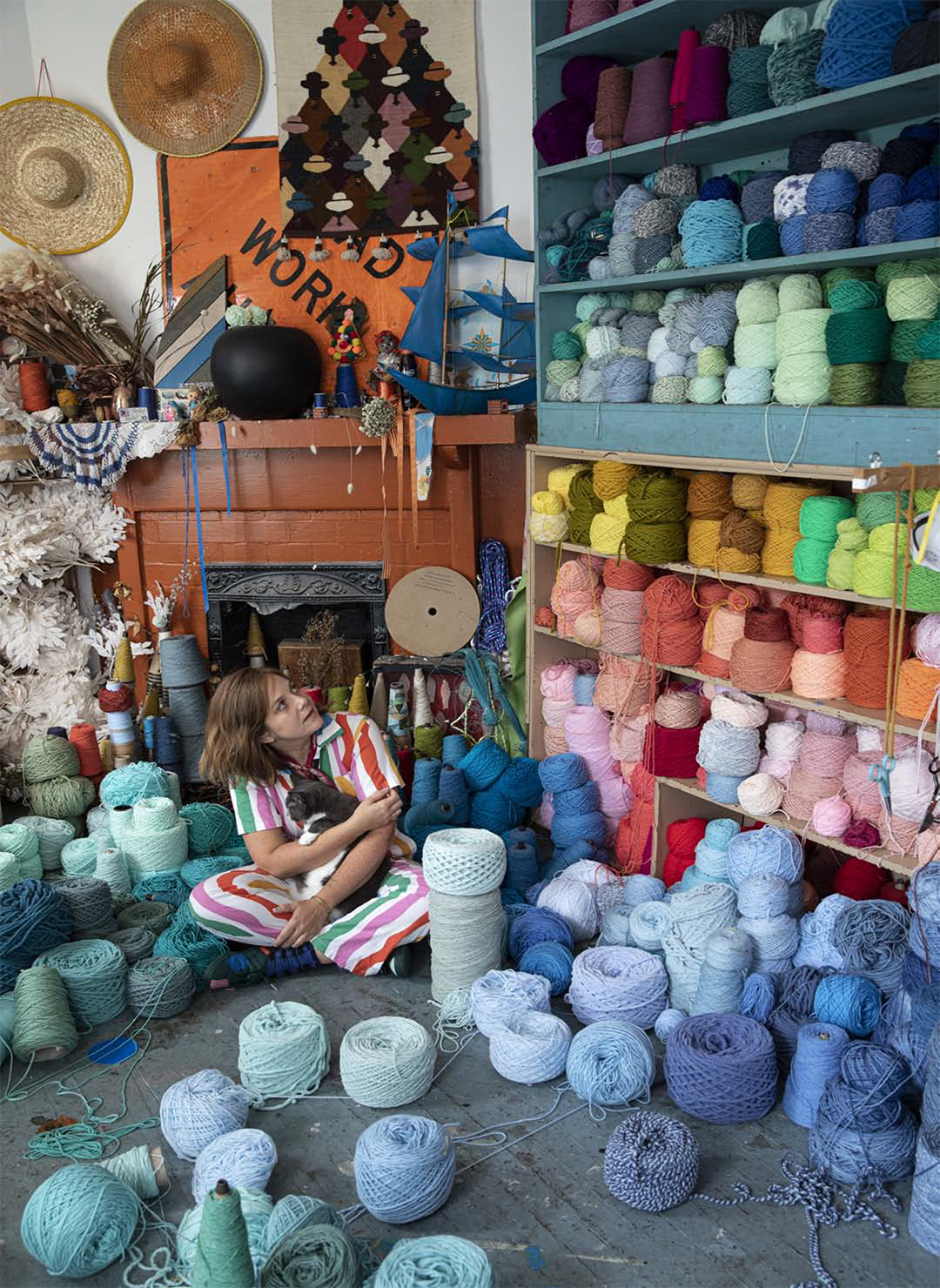 What system do you use to organize your yarn?
By color and then I pull out color groupings per project.
What furniture/storage systems do you use to organize your yarn?
Various shelving units.
How do you like to de-stash?
I like to use it to motivate me to create more work. I also save all of my scraps in hopes of creating an installation with them one day.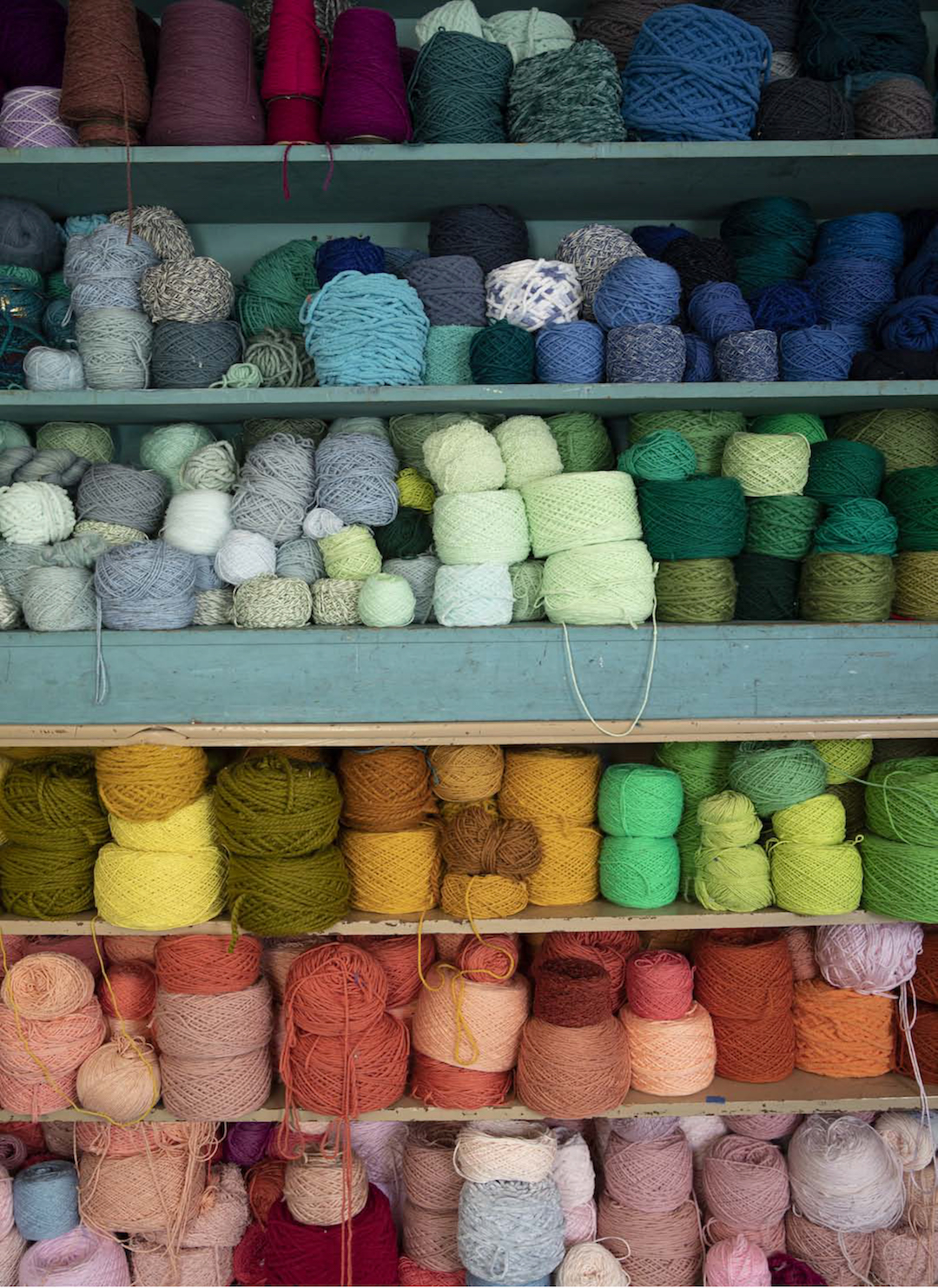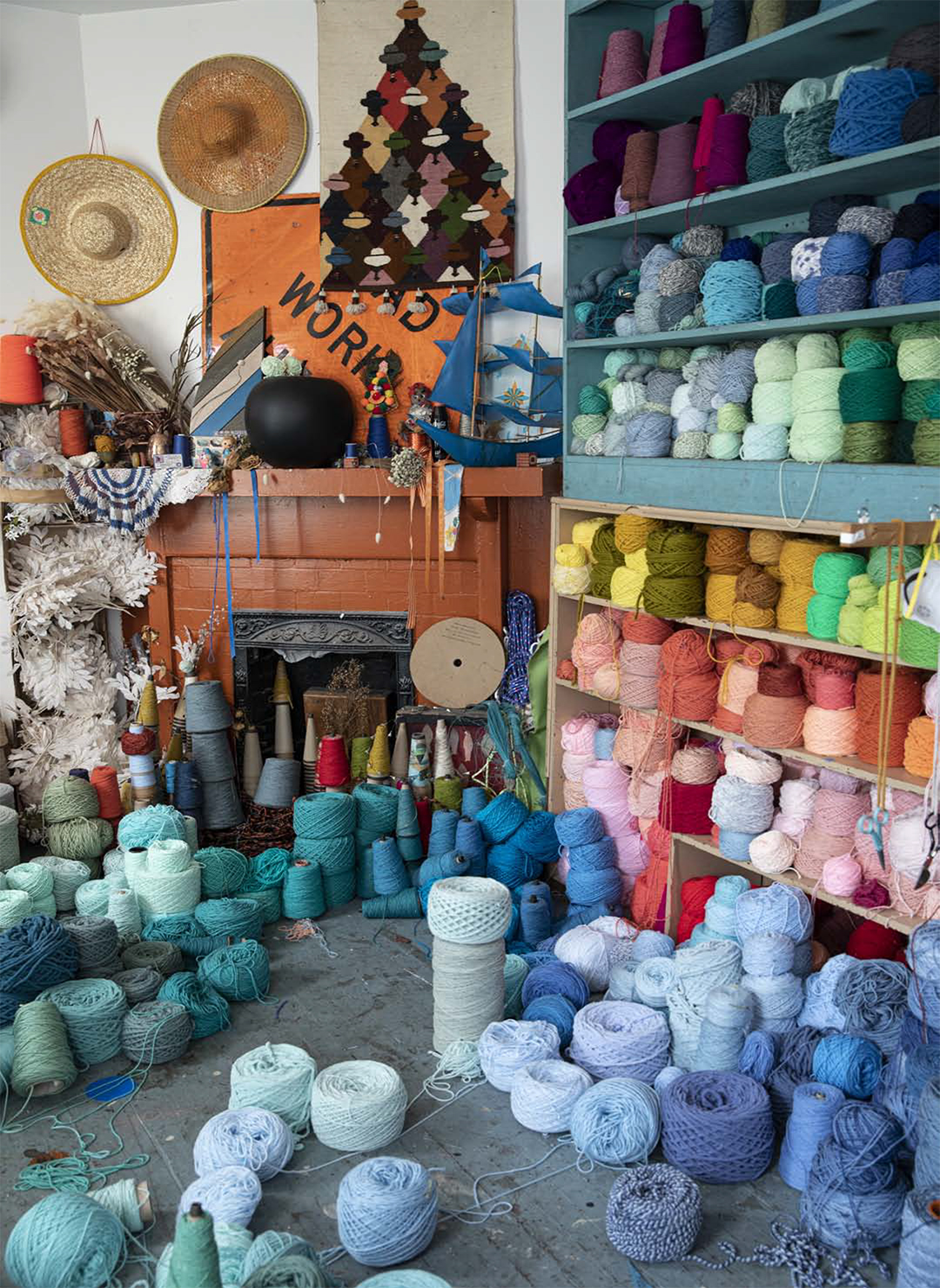 More often than not, what colors are always in your office/yarn corner?
All of them! The only color I don't have a deep stash of is purple, but even that is growing.
Do you like to work in the same space where your yarn is stored? Why or why not?
Yes. I like to see what is available to me. If I don't see it, I don't use it.
When you are working on a project, do you have a specific spot you put it when you aren't working on it, or does it follow you around beyond your space?
With tufting, my work is done on a stationary frame, so I don't have a choice!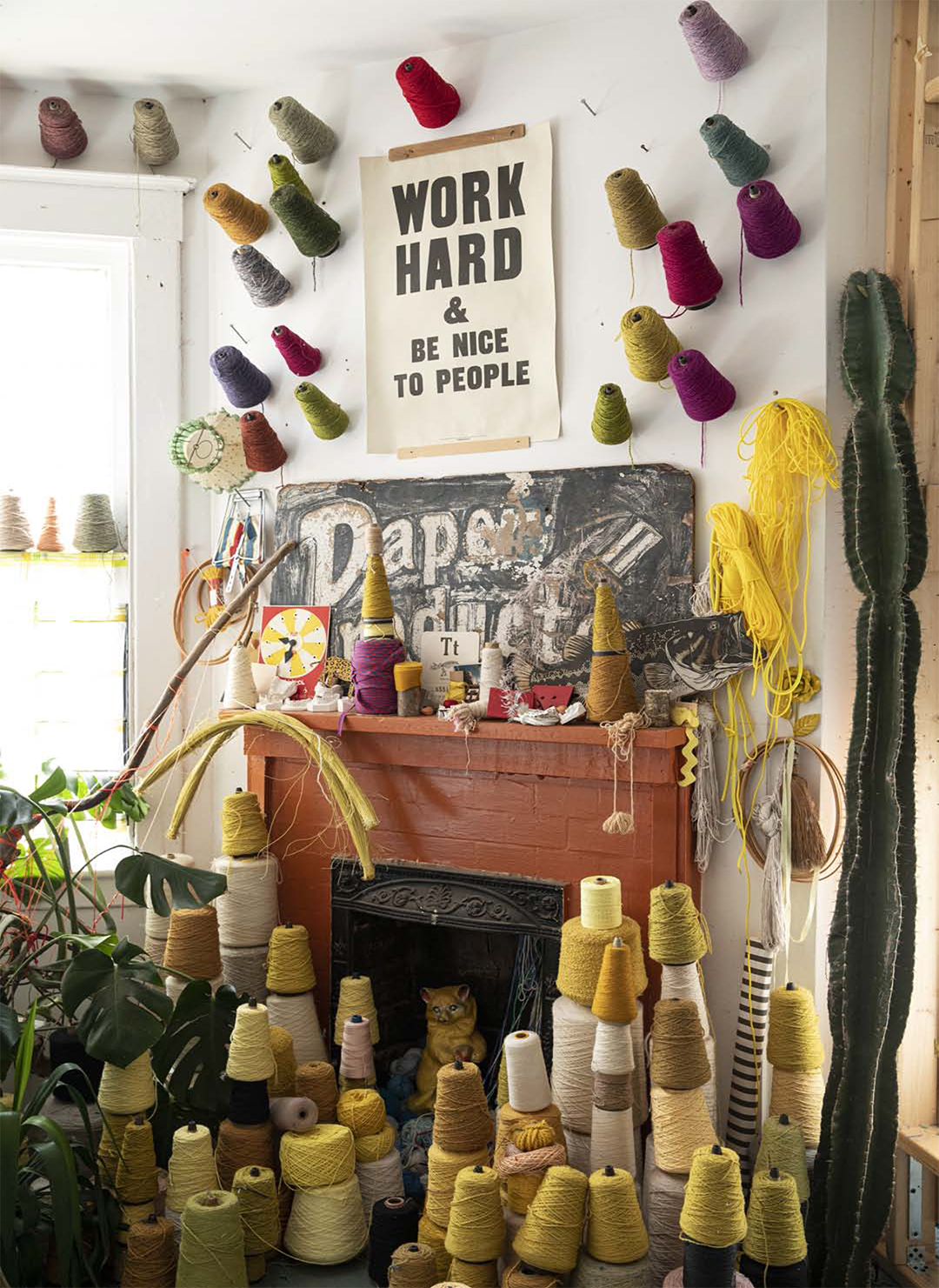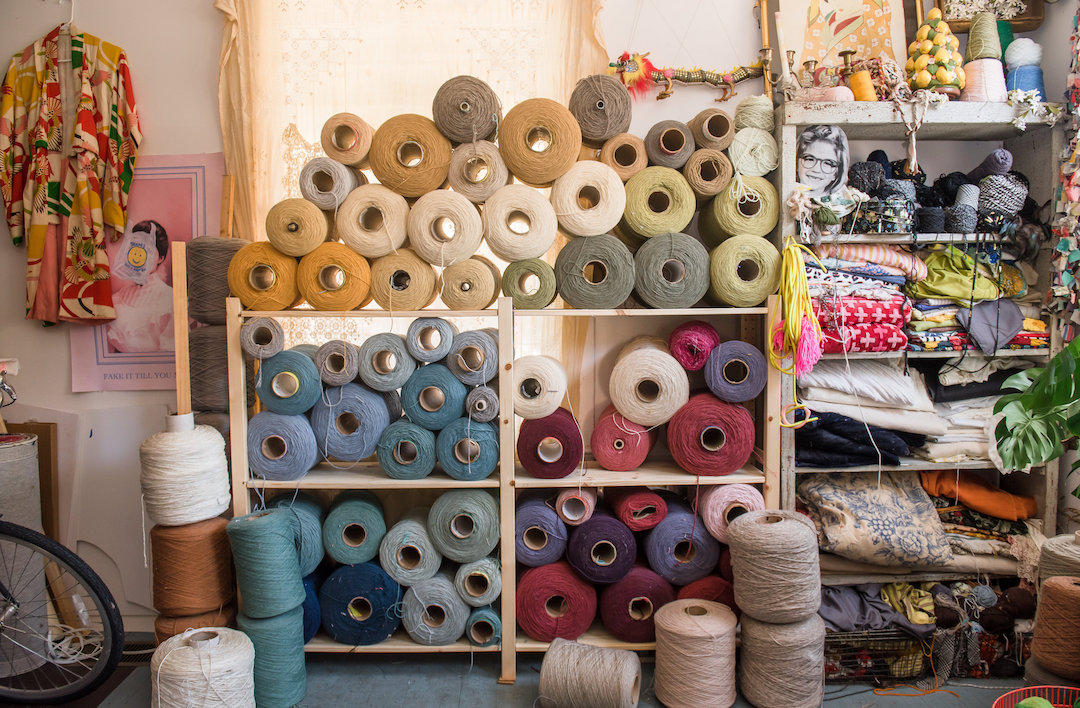 Was the majority of your yarn bought with a project idea in mind?
I'm always building the collection and know I will use it "one day."
Do you or have you ever found it difficult to manage/organize your yarn?
I have too much! Lol, so I am always needing more shelves/space.
How did you find an organization system that works for you?
My work is very colored focused and so organizing by color just made the most sense.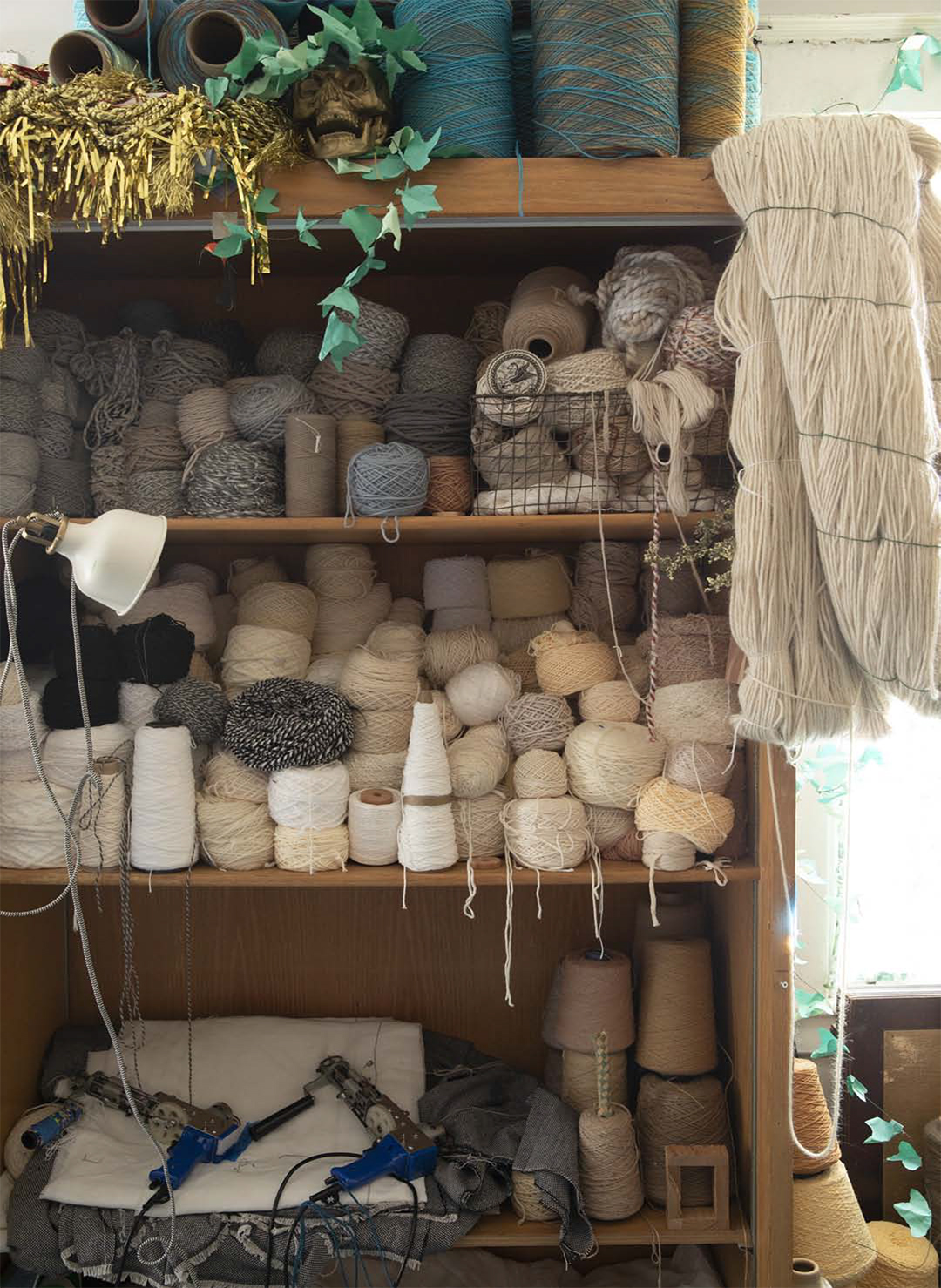 How important is a well-organized yarn corner/office to your mental wellbeing?
Although it may seem chaotic to others, it's super important to me to have the yarn in my own sense of order while creating. If colors are too mixed up, I have a hard time focusing.
Where did you purchase everything shown in your photos?
Ikea and thrifted/found.
Do you have any tips or advice you have for someone who is trying to reorganize their stash?
I think you have to organize in the way that best fits your own process and thought pattern. By color works great for me, but may not be for everyone. I will say I try to rewind my yarn cakes after tufting with them so they can stack easier/cleaner.
Are there any current projects or promotions you'd like to share?
I'm about to launch a fun line of digitally printed yarn-inspired floor mats!