Lion Brand: if you know anything about yarn, then you've probably heard this name before. One of the first yarn companies and manufacturers in the country, Lion Brand has been around since the nineteenth century (1878 to be exact) and sells yarn online and in craft chains and independent yarn shops across the country.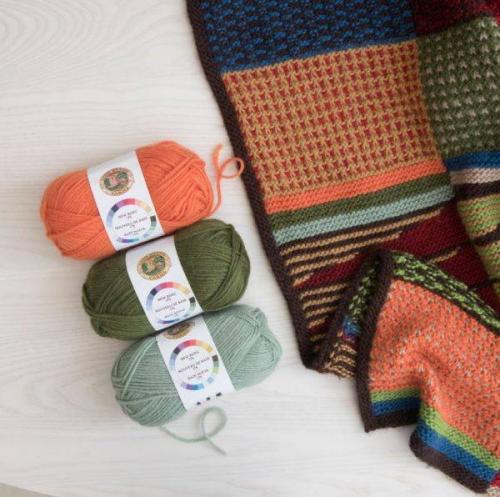 Lion Brand was also the first yarn company to feature a celebrity spokesperson - none other than Vanna White. You might know her from popular game show Wheel of Fortune (she spins the wheel). Vanna has a signature line of yarns with Lion Brand and has helped the brand donate almost two million dollars to St. Jude Children's Research Hospital.
Lion Brand likes to give back, too. They partner with our charity Warm Up America! to help provide afghans to people in need, which right now includes Gulf Coast families affected by Hurricane Harvey and newborn babies in Dallas.
Lion Brand has also contributed significantly to the culture and economy of New York City. In 1978, the City of New York saluted Lion Brand for noteworthy commitment to the economic vitality of New York City. Then in 2003, the Council of the City of New York honored Lion Brand for its outstanding contributions to the culture, vibrancy and continued vitality of the city and fashion community.
Check out their selection of yarns online or their patterns for inspiration. Lion Brand sells yarn in a variety of fibers and has several different categories, including baby, fashion, novelty and yarn made exclusively in the US. They even have a new line of yarn with one of our favorite fiber artists, London Kaye. London "yarn bombs" public places and teaches classes on how to make a yarn bomb piece. Check out her yarn on their website and don't forget to follow Lion on Facebook, Instagram, Twitter and Pinterest.