Knitting New Masculinities
Written by Estefania Lima
A shy but expressive movement of Brazilian male groups has been meeting to discuss the impact of misogyny on the construction of a toxic masculinity that does not only affect women (the number of feminicides increased 76% in Brazil in the first quarter of 2019, compared with the same period of 2018), but men themselves, who are encouraged to live more aggressively and are lonely.
One of these groups, called "Fio da Conversa/Thread of Conversation," has been using knitting as a tool for dialogue about masculinity, care and parenting. The creator and coordinator of the group, lawyer and manager of cultural projects Gustavo Seraphim, believes that knitting is a great way to start conversations of this kind, because, besides being a practice historically associated with women (which in itself already breaks expectations), is also an activity that takes the tension out of exposure and makes men more comfortable talking about their feelings.
With Gustavo it was like that. The lawyer began to knit after the birth of his son: "I began to practice manual labor with the birth of my son and was stimulated by the therapeutic process experienced by my wife with knitting. Fatherhood aroused my most sensitive and courageous version," he says.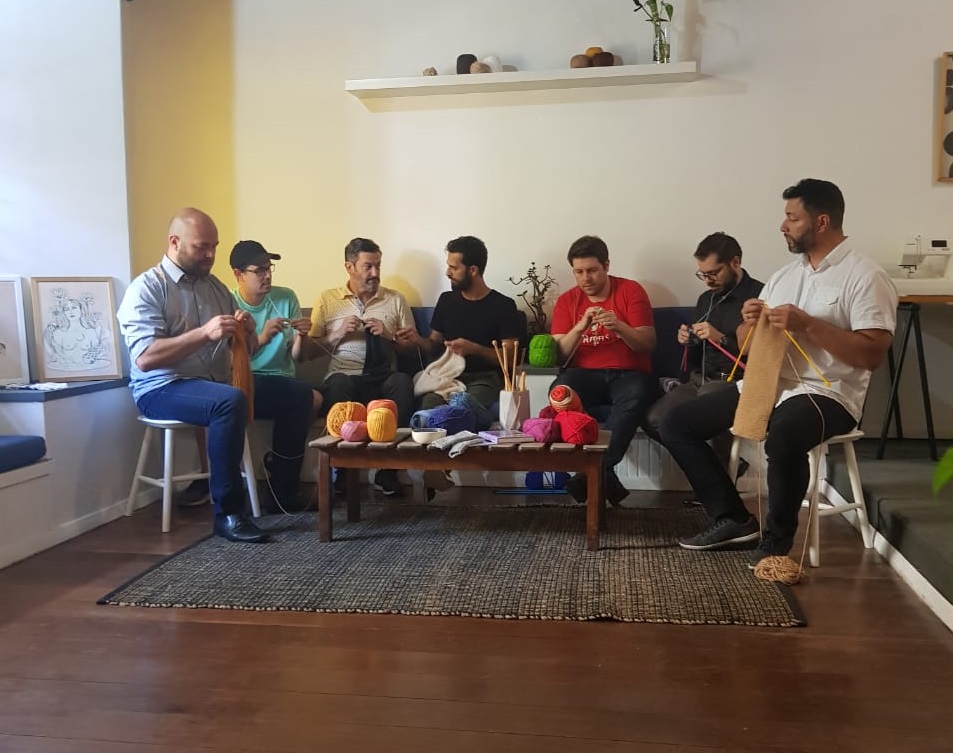 The event happened in the same period when he moved with his family to a different city from the one that he had lived in his entire life, São Paulo. By exchanging the metropolis for Curitiba (a much more intimate city), Gustavo felt the need to demonstrate how important his friends were to him and began to knit pieces for them.
"I started to knit for these people - primarily male friends," says Gustavo. "I knit the pieces remembering, with an open heart during the threads, the lived moments, the experiences and the bonds created. Once ready, I mail them with a letter with souvenirs and words of affection. Nurturing the affection I have for these people, I feel almost liberating pleasure in weaving those threads and being able to express my feelings."
Motivated by this experience, he created the Thread of Conversation. The group, which brings together about 15 men, meets biweekly in Curitiba to learn knitting and engage in dialogue about harmful stereotypes of masculinity. Recently, Gustavo has also researched the subject and has conducted interviews with dozens of male textile artists about their relationship to weaving and their masculinity issues. Part of these studies are published in URDUME, an independent Brazilian magazine on textile handicrafts, expression and self-awareness.
Estefania Lima is public relations professional with a master of medical sciences. She is also a philosophy student, textile artist and creator of URDUME Magazine.