Spinzilla 2014: A Monster of a Spinning Week October 6 - 12, 2014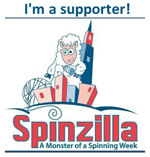 What is Spinzilla?
Spinzilla is a global competition where teams and individuals challenge each other to see who can spin the most yarn in a Week! During Spinzilla's inaugural event in 2013, spinners across the United States and Canada spun 1,373,175.06 yards of yarn! Organizers, The National NeedleArts Association's (TNNA) Spinning and Weaving Group (SWG), are looking to better that number in 2014.
Team registration opened on May 4th, and nearly two dozen teams signed up in the first few weeks. Teams sponsor in-person meet-ups and offer specials on Spinzilla-related merchandise leading up to the event.
Spinner registration opens August 4th. Spinners may join a team or spin as an individual Rogue spinner. Organizers seek to give spinners a big goal that would break down inhibitions about making yarn—the goal isn't to make perfect yarn, it is to make a lot of yarn! "The thing about making a lot of yarn," said Rita Petteys of Yarn Hollow who chairs the event, "is the more yarn you spin, the better spinner you become."
Important Dates
May 5 - July 14 Team Registration
August 4 - September 22 Team Spinner Sign Up
August 4 - October 3 for Rogue Spinners Sign Up
New in 2014
• Monster Mile Club! Every spinner that spins a mile (1,760 yards) will be entered into a
separate pool for random drawings for prizes.
• Spinners will be given credit for plying. Spinners still submit yardage in singles. Measure plied yarn and multiply the yardage by the number of plies.
• Going Global—Spinzilla is now open to teams and spinners.
Registration and Prizes
There is a $10 participation fee, 100% of which goes to help fund the Needle Arts Mentoring Program (NAMP) a nonprofit that supports youth mentoring in the needlearts (spinning, crochet, knitting, and stitching). Last year's donations raised nearly $6,000 and provided funding for CD spindle packs.
Winning team is awarded the Golden Niddy Noddy Traveling Trophy, bragging rights, and $25 gift certificates for their team members. There is also a prize for the top Rogue spinner and the spinner that spins the most yarn—individual or team member. All spinners will be entered into a pool for random prizes.
Words of Encouragement
Don't miss the Spinzilla Blog Tour which kicks off on 8/8, featuring popular spinners (and one photographer!) who will focus on educational topics designed to increase spinning knowledge.
7/8 Team Spinzilla—Why Make Yarn At All: The Blog Tour Kick Off!
7/22 Kirsten Kapur—Choosing a Pattern for Handspinning
8/5 Kate Larson—What Fiber Should I Pick and How Much Do I Need?
8/19 Sara Lamb—Productive Spinning
9/2 Jacey Boggs—Plying
9/16 Gale Zucker—Photographing Your Work
Hosted by The National NeedleArts Association, Spinzilla is also supported by a host of Sponsors including our title Yak sponsors Schacht Spindle Company, and The Woolery, major media sponsor Spin-Off, and supporting Bison sponsors Louet and Mielke's FiberArts. It takes place during National Spinning and Weaving Week, an event started by the Association of Spinning and Weaving Businesses (now SWG) and maintained throughout the years by the Handweaver's Guild of America.
What is the Spinning and Weaving Group (SWG)?
SWG's mission is to ensure a vibrant marketplace by promoting the joys of handspinning and weaving. SWG is a product segment group of TNNA. It consists of TNNA members who have spinning and weaving related businesses or affiliate businesses such as teachers, manufacturers representatives, publishers, authors, business services providers, and likeminded organizations. You must be a member of TNNA to join SWG. To learn more about SWG visit www.spinweave.org.
For more information about Spinzilla go to www.spinzilla.com
Check back for more special events.