They Love Yarn!
Vickie Howell • Vickie Howell Blog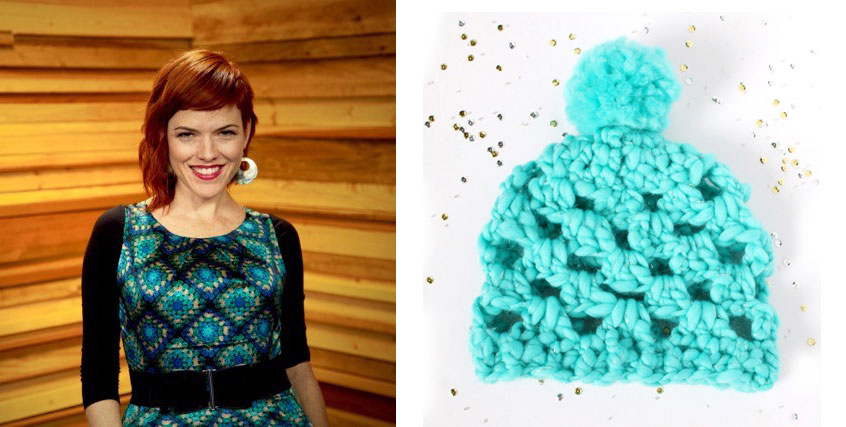 Name: Vickie Howell
Title: Knit & Crochetwear Designer/Craft Broadcaster/Encourager
Blog: Vickie Howell
Why do you love yarn?
I love yarn because… it's an object of possibility. There are very few limitations to what you can do with string, but add to it the softness, color and texture of today's yarns and, well, it's like a bit of magic in a ball band!
How did you learn to knit or crochet (did you teach yourself or did someone else teach you)?
My mom taught me to crochet when I was about 8 years old. I remember sitting in front of episodes of Bionic Woman and M*A*S*H while she showed me how to make granny squares that would later become doll blankets — I still have the finished blankets!
I didn't pick up knitting until I was in my late 20's when my friend Tracy took me to her local knitting store, La Knitterie Parisienne in Studio City, CA. I picked up the needles in that shop that day, and haven't set them down since.
What was your favorite part about learning to knit or crochet?
I've never been one to enjoy sitting around doing nothing. Relaxing, yes. But sitting completely still, no. Knitting & crochet offer a creative and productive way to keep my hands busy and my mind at peace while I'm watching TV, hanging out with family, as a passenger on road trips, etc. These crafts have enabled me to be lazy without really being lazy. This bodes well with my type B+ personality! ;-)
What is your go-to project suggestion for beginners?
I love a good, techie cover. A simple rectangle can be-cozy your smart phone or tablet, while teaching a lesson about stitch gauge (multiply how many stitches per inch you get using X yarn and Y needles x the width of your device and bingo, you know how many stitches to cast on!) and give you a fair amount of practice working with the Knit stitch. I offer a pattern and tutorial for this project, as well as taking soon-to-be-knitters through everything they need to get started on any project in my CreativeLive online course, Knit Maker 101. Interested? Find that, and all of my online courses here.
What tips do you have for teaching others to knit or crochet?
I often teach knitting using the knitted cast-on, because there's such a smooth transition between learning that and the knit stitch. It gives students a little "win" when they realize that they're totally prepared for the next step in learning!
I've found that with crochet, it really helps to give students permission to immerse themselves in one technique at a time. Unlike with knitting, there isn't a needle to act as a guide towards the next stitch, which can be intimidating to some. I encourage my students to work the chain stitch for a long enough time (for some it's the length of a ribbon, for others a garland) until they relax enough to start seeing some consistency in their stitches. Once they're comfortable there, then they tend to be more open to next steps!
What advice do you have for someone learning to knit or crochet?
Remember this is a new-to-you skill. Very few (if any) people pick up needles or a hook and yarn and immediately start churning out fabric. Be kind to yourself. Work on each step until you understand it. Reach out to your local yarn store for help, and join an online group where you can share your project photos with others who are as excited about the craft as you are. Community is everything when it comes to knitting and crochet. Lucky for us, it's a good one!