You've seen Kathleen Sams on TV—she's been a frequent guest on Knitting Daily and Aleene's Creative Living—or perhaps you have seen one of her informative how-to videos on YouTube. She's an expert crocheter and knitter and an amazing designer. We know you'll love her Fan Trellis Wrap, which combines rows of shell and pretty openwork stitches.
Follow her on Facebook and her blog:
Kathleen Sams: facebook.com/KathleenKisorSams
Aunt Lydia's facebook.com/AuntLydiasCrochetThread • Susan Bates: facebook.com/SusanBatesHooksNeedles
Red Heart: facebook.com/redheartyarns?ref=mf • Red Heart Blog: redheart.com/blog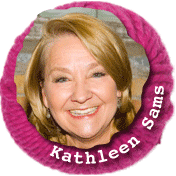 "I grew up loving yarn. I love the feel and texture of yarn going through my hands. It literally tells me what to do with it!"
---
Fan Trellis Wrap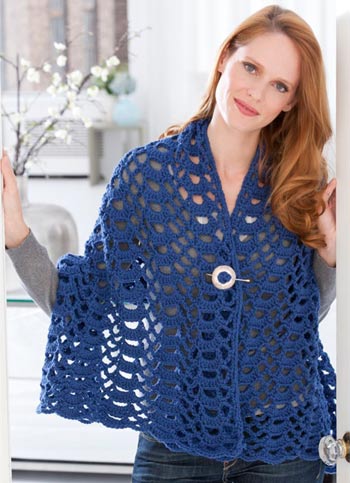 Rows of shells and pretty open stitches are combined for an all-season wrap to wear with everything from jeans to the prettiest party dress. Best of all, since you are crocheting with medium weight yarn it won't take long until you can wear it.
By Kathleen Sams
What You'll Need
Red Heart® With Love™: 2 skeins 1814 True Blue, Art. E400 available in solid color 7 oz (198 g), 390 yd (357 m); multi-color 5 oz (141 g), 230 yd (211 m) skeins.
Crochet Hook: 6mm [US-J 10].
Yarn needle
8 buttons
pin (optional)


Size
Wrap measures 26" wide x 50" long.
Gauge
two 7-dc shell groups and one ch-5 space = 5"; 8 rows = 5" in shell pattern. CHECK YOUR GAUGE. Use any size hook to obtain the gauge.
Abbreviations
ch = chain
dc = double crochet
mm = millimeters;
sc = single crochet;
st(s) = stitch(es);
tr = treble crochet;
* or ** = repeat whatever follows the * or ** as indicated;
[ ] = work directions in brackets the number of times specified.
NOTE:
Wrap is worked from center foundation in 2
sections. Stitch multiple = 12 + 11 (plus 1 for base row).
Wrap
First Section
Ch 84.
Row 1 (Wrong Side): Sc in 2nd ch from hook, * ch 5, skip next 3 ch, sc in next ch; repeat from * to last 2 ch; ch 2, skip next ch, dc in last ch; turn.
Row 2 (Right Side): Ch 1, sc in first st, skip ch-2 space, * 7 dc in next ch-5 space, sc in next ch-5 space **, ch 5, sc in next ch-5 space; repeat from * to last sc, end at **; ch 2, tr in last sc; turn — 7 shells across.
Row 3: Ch 1, sc in first st, * [ch 5, skip next 2 dc, sc in next dc] twice **, ch 5, sc in next ch-5 space; repeat from * to last sc, end at **; ch 2, tr in last sc; turn.
Repeat Rows 2 and 3 for shell pattern 19 more times, then repeat Row 2 once more. Fasten off.
Note: Additional pattern Rows 2 and 3 can be added here for longer length.
Second Section
With right side facing, beginning foundation at top, join yarn in first st; working into the ch-3 spaces across the edge, work Row 2 across. Complete same as for First Section. Fasten off. Weave in ends.
Side Edging
With right side facing, join yarn in first st at long edge; ch 1, sc in same st, * ch 3, sc in next space working over the bars of the tr; repeat from * across, working last sc in last st — 40 ch-3 spaces. Fasten off. Weave in ends.
Repeat Side Edging on other side edge.
Every effort has been made to produce accurate and complete instructions. We cannot be responsible for variance of individual knitters or crocheters, human error, or typographical mistakes.