Nicky Epstein is known for her innovative, fashionable, whimsical and award winning designs, which have appeared in every major knitwear magazine, as well as in museums and on television. She has taught classes to knitters around the world and is author of over 20 bestselling books, which range from highly original resource books, to Barbie Doll books, to amazingly creative design fashion/pattern books. She is the three-time winner of the National Independent Book Publisher's Award for Best Craft Book Of The Year. Her newest book, Knitting Block by Block (Nov. 2010-Potter Craft/Random House), has received rave reviews from critics and knitters! Visit nickyepstein.com for her travel schedule.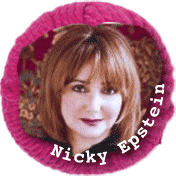 Why do I love yarn?...Because you can't knit without it! (Only kidding) Seriously…the colors, textures, nuances of different yarns are what gets my creativity flowing—I love the infinite selection that is out there and I try to be innovative with the inspiration that they invoke when I start a new project. They are the paint for my palette.
---
Cabbage Rose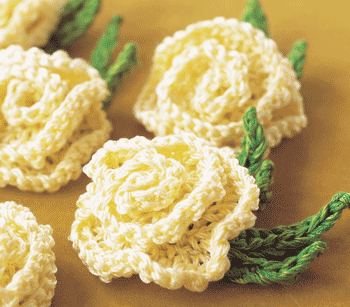 Designed by Nicky Epstein.
What You'll Need
11¾ oz/50g skein (each approx 85yd/78m) of Berroco Cotton twist (mercerized cotton/ rayon) in #8314 Jonquil (A), 1 skein in #8372 Linoleum (B) or a similar yarn in the colors of your choice
One pair each size 7 and 8 (4.5 and 5mm) needles
Tapestry needle


Flower
(make 5)
With A and size 7 needles,
cast on 10 sts.
Row 1 (RS) Knit.
Row 2 and all even rows Purl.
Row 3 *K1f&b of st; rep from * to end—20 sts.
Row 5 * K1f&b of st; rep from* to end—40 sts.
Row 7 *K1f&b of st; rep from * to end—80 sts.
Row 8 Purl.
Bind off.
Flower Shaping
To shape rose, twist to form spiral and sew in place at back.
Leaf (make 8)
With 2 strands B held tog, make slip knot. With size 8 needles, cast on 5 sts, bind off
5 sts. Sl rem st to LH needle. Cast on 8 sts, bind off 8 sts. Fasten off rem st. Sew to flowers (see photo).