They Love Yarn!
Andrea Sanchez • Knitin' Little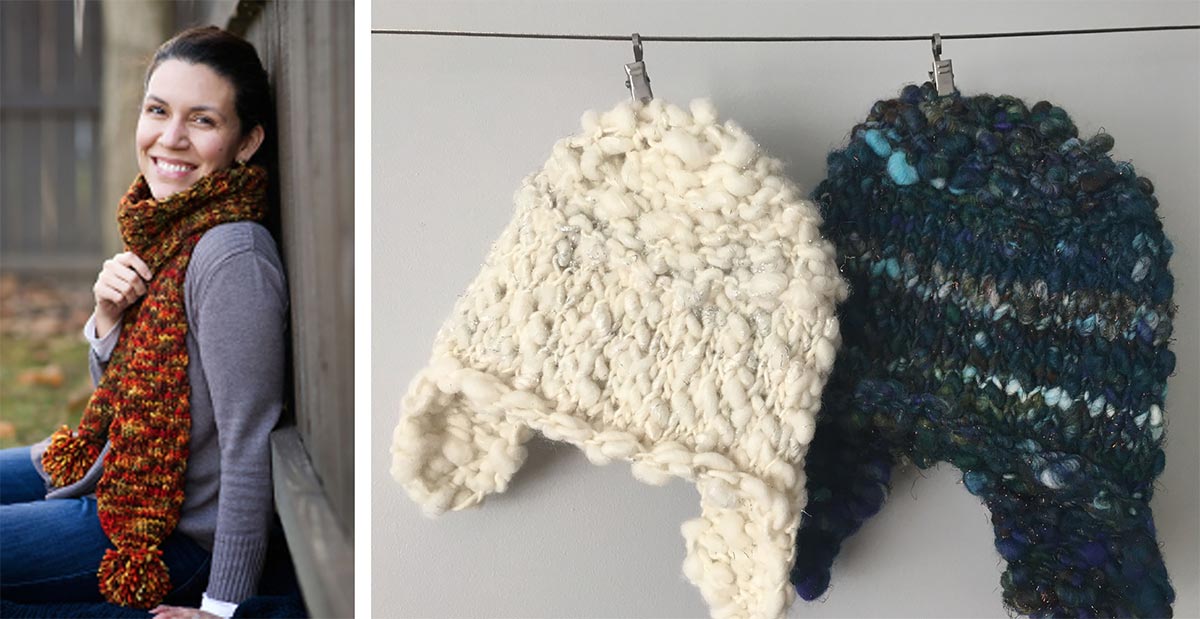 Name: Andrea Sanchez
Title: Little Big Hat
Blog: Knitin' Little
Why do you love yarn?
I love yarn because it is an amazing sensory experience. When I get the opportunity to swatch with different yarns it's like they are telling my hands what they want to be.
How did you learn to knit or crochet (did you teach yourself or did someone else teach you)?
My mother taught me to crochet on a whim. It was kind of like, "Hey mom, I want to make an afghan. Can you teach me?" But knitting I learned through online videos. Although in my mother's defense she did try to teach me. I lasted about 10 minutes with her and then gave it up as too hard. I didn't start with the online videos until about 5 or 6 years later.
What was your favorite part about learning to knit or crochet?
There's a great sense of accomplishment when you make your first something! You start to realize that hey! This isn't so hard after all. And then all you want to do is make things!
What is your go-to project suggestion for beginners?
For knitting, I always recommend cowls or hats. Something in the round and relatively easy. Those work up much more quickly than scarves, which can take a long time before you start to feel like you're actually making something.
What tips do you have for teaching others to knit or crochet?
Start with a thicker yarn, worsted weight or larger. This will mean using larger needles and that just tends to be easier than trying to learn on size 4 needles! Also, try out a few types of needles before you decide it's not for you. My first time learning was on loooooong aluminum straight needles that were also the wrong size for the yarn! My self-teaching experience was with shorter bamboo needles. The slippery texture and the discrepancy between the yarn and the needle made it difficult. Using the bamboo with a bulky weight yarn was much easier to grip and work with as a new knitter.
What advice do you have for someone learning to knit or crochet?
It's just yarn! If you make a mistake and have to pull it out, it's ok! We have all been there, and are still there. When I make a mistake in my knitting now, I just go for it and rip it out right away. When you're just learning it seems counterproductive but truthfully, practice does make perfect, so view it as extra practice. Also, try things out because you are learning. My first sock experience was just to learn how a sock is made and to try double pointed needles. I only knit one because the goal wasn't a set, it was understanding. And have fun!