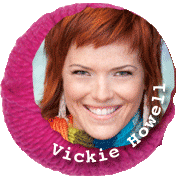 Vickie Howell is a mother, designer, author and crafty spokesperson. She's best known as the host and Creative Consultant of TV's Knitty Gritty, co-host of DIY Network's Stylelicious and the Needle Arts host for myLifetime's CRAFTED series. She's the author of six knitwear and craft books including her most recent, Craft Corps: Celebrating the Creative Community One Story at a Time. She's contributed columns, articles and designs to worldwide publications including The Today Show, PBS Parents, HGTV, Southern Living, and CRAFT: Magazine. For more information on Sheep(ish) including free patterns, go to: Caron.com/vickiehowell. Twitter: @vickiehowell FB: Facebook.com/Vickiehowell
"I admit it. I'm a yarn fan-girl. I love looking at it; talking about it; stashing it; shopping for it; being surrounded by it. Oh, and designing, knitting and crocheting with it isn't so bad either! As you can imagine, having my own yarn line—Stitch.Rock.Love for Caron—is pretty much this knit-nerd's dream. Recently the line launched its first yarn, Sheep(ish)—and so my love affair with fiber continues as I proudly wear all of it's colors in a cheerful, rainbow scarf. I hope that when you knit up your own version—using anywhere from 2-21 colors—you'll consider it your own personal fiber flag; one that exclaims, "I love yarn!"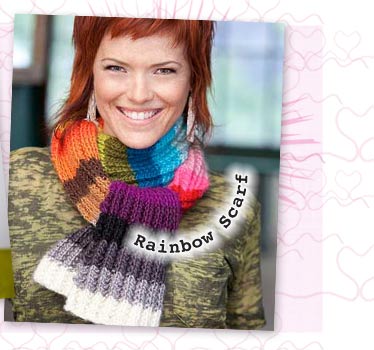 Click on photos to download instructions.
Springtime Scarf
Designed by Vickie Howell for Bernat

What You'll need
Vickie Howell Sheep(ish) (167 yds/153 m; 30% wool/70 % acrylic) Hot Pink(ish) (00007) 1 ball
Size US I-9 (5.5mm) crochet hook or size needed to obtain gauge.
Tapestry needle


Finished Measurements
Approx 40" x 4"/101.5 x 10 cm,
After blocking
Gauge
18 sts and 6 rows = 4" [10 cm]
In netted stitch pattern, slightly stretched. Gauge is not that important for this project.
Abbreviations
Approx = Approximate(ly)
Ch = Chain(s)
Rep = Repeat
Sc = Single crochet
Sp(s) = Space(s)
St(s) = Stitch(es)
Tog = Together
Tr = Treble crochet
Instructions
Make 2 pieces alike
Ch 21.
1st row: 1 sc in 9th ch from hook. *Ch 5. Miss next 3 ch. 1 sc in next ch. Rep from * to end of chain. Turn. (Total of 4, netted "Os")
2nd row: *Ch 5. 1 sc in next ch-5 sp. Rep from * to end of row. Turn.
Rep 2nd row until piece measures 17" [43 cm].
Lacey ruffle:
1st row: Ch 1. *5 sc in next ch-5 sp. 1 sc in next sc. Rep from * to end of row. Turn. 25 sts.
2nd row: Ch 4 (counts as tr). 1 tr in first sc. *Ch 5. Miss next 5 sc. 2 tr in next sc. Rep from * 3 times more. Turn. 30 sts.
3rd row: Ch 4. 1 tr in first tr. 2 tr in next tr. *Ch 5. Miss next ch-5, (2 tr in next tr) twice. Rep from * 3 times more. 40 sts.
4th row: Rep 1st row.
Fasten off.
Finishing
Using tapestry needle and yarn, seam tog both flat edges of Scarf.
Pinch center at the seam you just created so fabric is gathered; sew in place to create ruching.
Block Scarf.
by Vickie Howell for Caron
What You'll Need
3 Balls (or up to 21!) Stitch.Rock.Love Sheep(ish) for Caron (30%Wool/70% Acrylic; 167 yds/154m) in assorted colors.
Size US 8 (5mm) Needles
Tapestry Needle


Finished Measurements
5" x 61"
Directions
CO 31 sts.
Row 1: K2, P2; ending with p2, p1.
Row 2: Repeat Row 1 (These 2 rows make Mistake Rib Pattern)
Rows 3-168: Repeat last two rows, changing colors after every 4th row.
Note: If you're duplicating my version exactly, you'll use all 21 colors of Sheep(ish). The color pattern will be repeated twice, as a mirror image of itself as follows.
First half of scarf:
1. White(ish)
2. Grey(ish)
3. Gun Metal(ish)
4. Black(ish)
5. Plum(ish)
6. Magenta(ish)
7. Red(ish)
8. Hot Pink(ish)
9. Pink(ish)
10. Taupe(ish)
11. Camel(ish)
12. Espresso(ish)
13. Pumpkin(ish)
14.

Coral(ish)
15. Yellow(ish)
16. Lime(ish)
17. Chartreuse(ish)
18. Olive(ish)
19. Teal(ish)
20. Turquoise(ish)
21. Robin's Egg(ish)
Second Half of Scarf:
Repeat pattern in the reverse order, beginning with Robin's Egg(ish)—they'll be an 8 row stripe of this color in the center of your scarf.
Tip: This scarf would look great using only 4 colors, too! Either pick a contrasting palette, or else just choose a pairing of 4 from my scarf!
BO in pattern stitch.
Finishing:
Weave in ends. Block if necessary.
The information on this instruction sheet is presented in good faith and without warranty. Results are not guaranteed.
I
love

YARN DAY begins in: