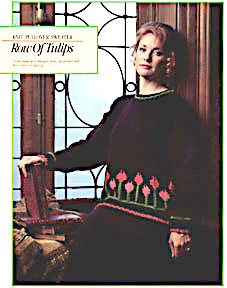 With snow and ice falling all around us, this Tulip Pullover reminded us of Spring. The tulips, which decorate the front and back of the sweater, are knitted in following the chart at the end of the pattern.
Size:
This is an oversized garment. Directions are given for size small. Changes for medium and large sizes are in parentheses.
Materials:
4-ply knitting worsted weight yarn.
21 (24 1/4 -28) ounces Black
3.5 ounces each of Berry, Light Pink and Olive
Knitting needles size 8 or size to obtain gauge.
Stitch holders, stitch markers, yarn needle, bobbins.
Gauge:
9 stitches = 2", 6 rows = 1" (in stockinette stitch).
Finished Measurements: Bust - 42" (46-48). Width of front or back at underarms -21 (23-24); width of sleeve at upper arm - 19 (20-21).
Notes:
When changing colors, pick up new color from under dropped color to twist yarns and prevent holes. Work tulip tops with individual bobbins. Stems are embroidered in duplicate stitch after pieces are knit. When carrying yarn in back, twist in every three stitches.
Back:
With Berry, cast on 98 (106-114) stitches. Change to Light Pink.
Ribbing:
Row 1: Purl 2, [knit 2, purl 2] repeat directions in brackets across remaining stitches. Change to Black.
Row 2: Knit 2, [purl 2, knit 2] repeat directions in brackets across remaining stitches. Repeat Rows 1 and 2 until there are 7 rows of rib. Work in stockinette stitch (knit 1 row, purl 1 row) for 4 rows. Change to Olive and work even in pattern for 2 rows. Change to Black and work even for 8 rows.
Chart:
Keeping in stockinette stitch, begin where indicated for size being made and complete Rows 9 through 27 of chart all around sweater alternating large and small tulip heads (14 on the front and 14 on the back). With Black only, continue in pattern until length of piece measures 22 (23-25).
Shape Shoulders:
Bind off 31 (35-39) stitches at beginning on next 2 rows. Bind off remaining 36 stitches for neck. Mark 9 1/2 (10-10 1/2) down sides from shoulders for beginning of armholes.
Front:
Work as for back until piece measures 19 (20-22) from beginning, end with wrong side row.
Shape Neck:
Next Row: Work in pattern on 41 (45-49) stitches, place center 16 stitches on holder for neck, join another ball of yarn; complete row. Working both sides at once, at each neck edge bind off 2 stitches twice, then decrease 1 stitch every row 6 times - 31 (35-39) stitches each side. Work even until piece measures same length as back to shoulders. Bind off. Mark armholes as for back.
Sleeves:
Ribbing: With Black, cast on 38 stitches; complete as for back. Work in stockinette stitch for 4 rows. Change to Olive and work even for 2 rows. Change to Black. Keeping in pattern, increase 1 stitch each and every 4th (3rd-3rd) row 23 (25-27) times - 84 (88-92) stitches. Work even until sleeve measures 17" (17 1/2-18) from beginning. Bind off.
Finishing:
Embroider stems with Olive using duplicate stitch and following chart for placement. Sew left shoulder.
Neckband: From right side with Black, pick up and knit 36 stitches across back neck, then 50 stitches across front neck, including the stitches on holder - 86 stitches. Work in rib as for back for 4 rows more. Change to Olive and continue in rib for 2 rows. Change to Black and continue in rib for 2 rows. Bind off. Sew right shoulder and neckband. Sew sleeves between armhole markers. Sew side and sleeve seams.
Every effort has been made to ensure the accuracy and completeness of these instructions. We cannot be responsible, however, for variances in individual techniques, human errors or typographical mistakes.