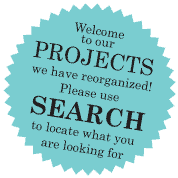 Craft Projects
Make one or all three of these multi-size baskets. Have fun selecting wild colors or match your dinnerware or favorite tablecloth. The possibilities are endless, and they make a perfect hostess gift for someone special. Click here for our Craft project of the Month.
Make your home the place where family and friends enjoy the holidays. It's easy! Twisted yarn holiday projects can add warmth and cheer to every corner of your home and make great gifts too.
Decorate your door or wall with a beautiful yarn wreath. Change yarn colors every season and then have fun decorating with florals, ribbons, charms, fabric and more. Our secret: twisted yarn. There's no knitting or crocheting.
Whimsical Pencil Toppers is a fast, fun and easy project for kids of all ages. Follow our instructions or create some fun creatures of your own!
Crochet Projects
You'll have baby cooing with this charming collection of animals. They're crossed stitched on a crocheted background. A multi-color picot edging is the perfect finishing touch.
This afghan is a beautiful accessory for your home--especially fduring the colder days of the year. Use it also as an accessory for yourself--to keep you warm and cosy.
Add a touch of warmth to your favorite chair this fall with these inviting Crochet Popcorn Pillows, October's Crochet project of the Month. The popcorn stitches create a wonderfully textured design.
Create this elegant screen panel for privacy or as a room accent. The pieces come together to set a room apart. It's stylish and offers you the opportunity to impart your signature to the design.
This hot fashion item can be worked up in a weekend or a few evenings. Two strands held together and a giant hook make it quick and there is absolutely no finishing.
Beautiful textured stitches accented by cross-stitch flowers make this crocheted afghan a family favorite. Create five strips, join them together and embroider. A perfect companion to both formal and informal decor.
Who said ripples are only for afghans? For this warm scarf we've combined the texture of the popular ripple stitch with alternating rows of color. The beret is worked in the round.
Use basic crochet stitches to fashion this richly textured curtain tieback. Combine yarns with pearls or other embellishments.
Bring a touch of the Southwest into your home with soft desert colors and geometric motifs. Aptly called, "Desert Canyon," the afghan is crocheted in strips which are joined together.
It's a classic, it looks great, and it's warm. This handsome, richly textured pullover features fisherman-stitch patterns adapted in crochet.
Hexagon-shaped motifs are arranged to create an explosion of color in this month's Crochet project. Add warmth and texture to any room with the Galaxy Afghan.
Richly textured Pineapple motif is adapted to a floor rug. Adds warmth in front of the fireplace or makes a practical addition for kitchen and bath.
When plates are filled with hot, steaming food, protect tabletops with these handy hot pads. Fast and fun, the hot pads are crocheted in rug yarn for thick, heat-proof protect.
For those cool summer evenings, take along this lacy, fringed shawl to keep you warm. Work the triangle-shaped shawl in graduated colors as shown, one color, or any combination of yarn colors that strike your fancy.
It's in the Bag! Fill this crocheted pouch with precious jewels, potpourri or whatever suits your fancy.
The following basic pattern is used to make either the Pig or Lion Finger Puppet or any other creature you can dream up!
Granny square panels and embroidered single crochet panels are combined to make this beautiful tradition afghan.
As pretty as a rainbow, our Rainbow Waves Afghan will add light and color to any room. Single crochet stitches are worked into the rows below the working row creating a wonderfully textured "V" pattern. Follow our color combination or make up your own. Click on the picture for a larger view.
The popular log cabin quilt pattern has been adapted to yarn to create this colorful afghan. It's a great blanket for children when worked in pastels or for a more sophisticated look choose a deeper color palette.
From the pages of Family Circle Easy Knitting comes this easy cardigan. Alternating rows of single and double crochet, combined with simple shaping will make this cover-up a favorite addition to your wardrobe in luscious lavender.
From a distance, this brightly colored crocheted afghan looks just like a quilt. Use deeper yarn colors for a rich, sophisticated look.
Pattern courtesy of Annie's Attic
Your favorite baby will be ready to go visiting in this attractive 4-piece crocheted outfit. Sweater, soakers and bonnet with matching blanket will have friends and family cooing and it's oh so easy to make!
It drapes like a shawl, but it's actually a shrug, crocheted with two strands of worsted weight yarn on a Q hook. Have fun crocheting this Make It Quick pattern: for a tweed look, blend different solid colors or variegated shades, and for added texture, mix a brushed yarn with a smooth.
Crochet is combined with Swedish embroidery in this stylish afghan. The textured Moss stitch is the perfect background for the Swedish weaving technique.
A perfect addition to your fall wardrobe this attractive, long vest can be worn for work or play.
Knit Projects
The 13 stripes and blue background for the stars are done in stripes and intarsia respectively. The stars are duplicate-stitched after the flag has been knitted. This pattern includes two options for finishing: a hem (or casing) on both top and bottom (through which you can also insert dowels to hang your flag) with a backwards crochet at the ends. Or you can work a backward crocheted edge around all sides (in either gold or the flag colors).
Note that this pattern requires having two Sweater Machine beds bolted together since you will need 192 needles.
Wrap your favorite baby in this easy-to-knit (honest!) ensemble. In May we featured the all-in-one piece sweater embellished with french knots, and this month we complete the outfit with matching cap, booties and blanket for a look that every fashionable baby will want to show off this spring!
Baby's First Sweater is easy to knit because its all in one piece. Sew the underarm and sleeve seam and you're done. Embellish with french knots and a ribbon tie. (Corrected Version!)
Fun vest dressing for Spring. Strawberry motifs, applied with duplicate stitch, add a colorful touch to this sporty black and white striped vest.
It's a challenge, but this pullover is a knock out! Follow the charts to success to complete this black and white beauty.
Have fun alternating blocks of color to create this classic knitted pullover.
It's a classic. Traditional fisherman-stitch patterns are adapted to create this handsome pillow, October's Knit project of the Month. Perfect on your favorite sofa and large enough to use as a floor pillow.
Ribs and braids decorate this attractive knitted hat and scarf setthat's guaranteed to keep you warm this winter.
Welcome a new baby with this beautiful knit Heirloom Blanket. Shell panels are joined together to fashion this lacy baby afghan that will be treasured for years to come.
The fashion adage: Classics never go out of style, best describes this knitted cardigan jacket with contrasting collar and pocket trim. Perfect for the office or an evening out.
For cool mornings or late afternoon tennis, nothing is as comfortable and practical as this knit tennis vest from Family Circle Easy Knitting. Classic cables are accented by cranberry and butterscotch color bands at the neckband, sleeves and ribbing.
An ideal first project. Large needles and three strands held together produce almost instant results and there are only two small seams to sew.
This geometric-inspired knitted floral afghan is at home in the city or country. It's challenging ­ you'll work with bobbins ­ and the floral motifs are created with duplicate stitch.
The following pattern is used to make the frog puppet or any other creature you can dream up!
Knits managing editor Ann Budd designed the Ladder of Life Socks to honor the men and women who work to save lives in our communities during times of need, not only during national crises like the September 11, 2001, terrorist attacks, but every day. We hope that you will join us in a rally of appreciation by knitting them for your local firefighters and/or other rescue workers.
This pineapple-inspired design, the symbol of hospitality and belonging, makes an attractive addition to any home and a very special heirloom.
It's so easy to knit our Garter Stitch Top. Create two rectangles and join them along the side seams. To make it easier for beginners, we did not use abbreviations in the pattern.
Design on design creates this richly textured afghan. First, you knit cable stitch panels and then using two strands of yarn, weave yarn through the nubs to overlay a design.
With snow and ice falling all around us, this Tulip Pullover reminded us of Spring. The tulips, which decorate the front and back of the sweater, are knitted in following the chart at the end of the pattern.
Brighten up your winter wardrobe with this knitted striped vest. Fun to wear and easy to make.
Knitted with double strands of yarn on large needles, this classic cardigan looks great and keeps you warm.
Look what fun knit fashions we just hatched for your favorite youngster.Bright yellow ducklings are ready to play and so will every child who slips on this cheerful knit pullover.